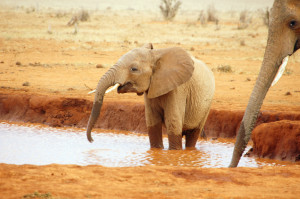 Safari can be pretty expensive. The average price runs about a grand a night. Not really the kind of chump change most of us having lying about. It definitely doesn't fit nicely into the budget of most Americans these days, but if you've been itching to check out some African wildlife, there are a few safari trips that wont have you living on your parents couch for the next five years. Plus, while it may be fun and fancy to visit some of the most notable Kruger, Mara, or Botswana properties, who doesn't like to travel off the map every now and again?
Plus traveling in the off-season can save you some serious dough. South Africa is the best in the off-season because their camps stay open year round.
This is where you start planning ahead!
Winter months—May-September—are typically the least expensive. It tends to rain along the coasts, but the interior remains dry. What does this mean? When the weather is cooler not only are prices lower, but animal sighting are better as well because the bush is less thick.
Check out the Samara Private Game Reserve in the Eastern Cape, a six-suite lodge that has all the fancy fare of the notable Kruger properties. Their reserve has rhino, cheetah, antelope, and mountain zebra. Rates in the off-season are significantly less. Check out their website here http://www.samara.co.za/rates.htm.
And the Addo National Elephant Park only three hours away!
-Arianna Schioldager