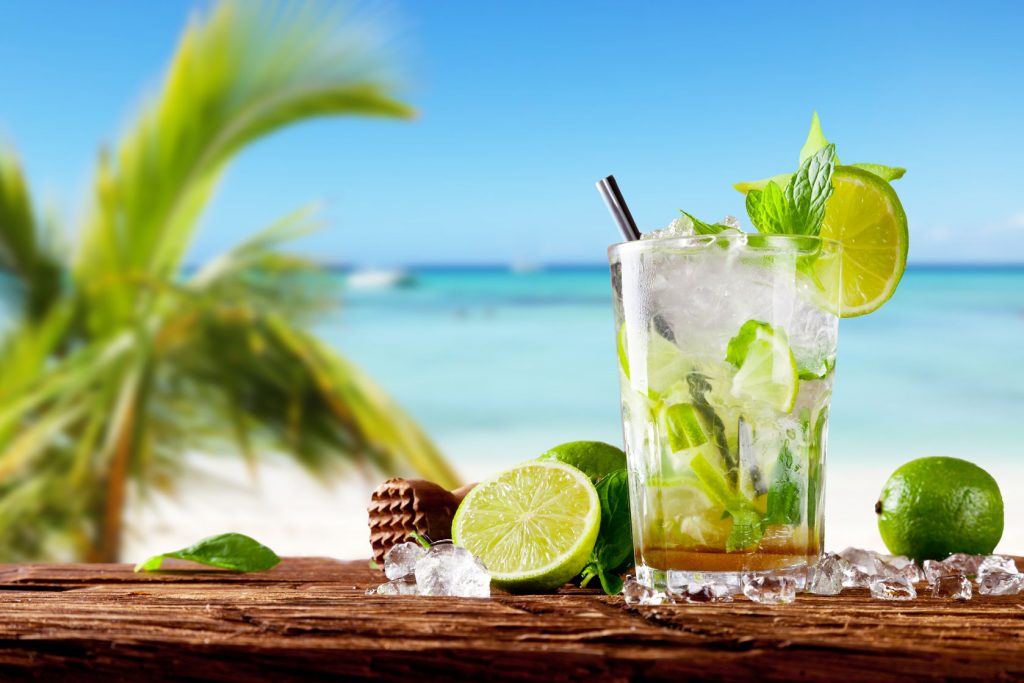 You don't have to hit the streets to have a good time. You know this — after all, you're not a college kid anymore. Some days you may just want to keep things low-key at the house. You'll save time and money by having a get together at home and inviting friends over. Who says you've got to get dolled up on a Friday night, anyway? Besides, it's fun to set up your patio, porch or deck and play bartender. If you have a few dollars, you could upgrade the blender, grab some new glassware and run through summery cocktail recipes with the whole crew! Take a look at the list Weekly Sauce has compiled and start the season off right.
Blended Mojitos
Ingredients
● 12 fresh mint sprigs, each about 8 inches long,
● 1/2 cup fresh mint leaves
● 1/2 cup sugar
● 1/2 cup fresh lime juice
● 1 cup light rum
● Sugar and 1 or 2 lime wedges for coating rims
● Ice cubes as needed
● 2 cups club soda
For the garnishes:
● 1 lime, cut into 4 wedges
● 4 small fresh mint sprigs
Head to Williams-Sonoma for details on making the blended mojito.
Guava-Lime Cooler
If you're having issues finding guava nectar at your neighborhood grocery store, head to the closest farmers' market and look for a few cans. You can easily multiply this recipe too, so it works if you have a few or a lot of friends over for drinks. Here's another tip regarding this recipe: simple syrup is really easy to make. All you're doing is mixing one part sugar with one part hot water until it dissolves. Let it chill, then use!
Ingredients
● Ice, as needed
● 18 fl. oz. guava nectar
● 9 fl. oz. white rum
● 3 fl. oz. fresh lime juice (from about 3 limes)
● 3 fl. oz. simple syrup (see note above)
● 24 fl. oz. sparkling water, or as needed
● 6 lime wedges
● 6 straws
Wiliams-Sonoma has more instructions on how to whip up these tasty Guava-Lime Coolers.
Blueberry Mint Juleps
Ingredients
● 2 1/2 ounces bourbon
● 1 ounce mint simple syrup
● 1 ounce mint blueberry puree
● crushed ice
● fresh mint leaves
● mint simple syrup
● 1/3 cup granulated sugar
● 1/3 cup water
● 1 bunch of mint leaves
● blueberry mint puree
● 2/3 cup fresh blueberries
● 2 tablespoons mint simple syrup
Try this twist on a classic cocktail via How Sweet Eats.
Pomegranate Daiquiris
Ingredients
● 3½ cups pomegranate juice
● 1½ cups plain or raspberry-flavored light rum
● 1 cups cassis or cranberry liqueur
● ⅓ cups fresh lime juice
● ice cubes
● Pomegranate seeds, frozen green grapes, or kiwi slices
Don't do an average daiquiri this weekend — try making this one from Delish.
Strawberry Pimm's Cup
Ingredients
● 1 handful of fresh mint
● 4 cucumber slices
● 4 strawberries, sliced
● 2 lemon slices
● 2 lime slices
● 4 ounces Pimm's No. 1
● 1 lemon wedge
● 1 lime wedge
● 4 ounces ginger beer
● 1 to 2 ounces club soda (you can totally leave this out if you want, but I like the extra fizz minus flavor)
Head over to our friends at How Sweet Eats for more directions on how to make Strawberry Pimm's Cups.
Raspberry Limoncello Prosecco
Amazingly refreshing, bubbly, and sweet – a perfect summer cocktail that you can make in just 5 minutes!
Ingredients
● 3 cups prosecco, chilled
● 1 cup limoncello liqueur, chilled
● 1 cup frozen raspberries
● 6 sprigs fresh mint
Damn Delicious takes you through the steps to putting this delicious and tangy treat together.
Orange Splash
Ingredients
● 2 oz. Absolut Citron vodka
● 1 oz. Cointreau or triple sec
● 1 splash fresh lime juice
● 1 splash orange juice
● Sugar, for garnish
● Orange slice, for garnish
This Orange Splash is too simple and tasty not to make at your next gathering. Go to Delish for more details.
Coconut Margarita
Ingredients
● 1½ ounces Patron reposado tequila
● ½ ounce Cointreau
● 1 ounce coconut cream
● 1 ounce coconut milk
● ½ ounce fresh lime juice
● Splash of half-and-half
● Splash of simple syrup
● lime wedges for garnish
Check Foodie Crush for details on how to make these tasty and tropical Coconut Margaritas.
Carolina Peach Sangria
Ingredients
● 1 (750-milliliter) bottle rosé wine
● 3/4 cup vodka
● 1/2 cup peach nectar
● 6 tablespoons thawed frozen lemonade concentrate
● 2 tablespoons sugar
● 1 pound ripe peaches, peeled and sliced
● 1 (6-oz.) package fresh raspberries
● 2 cups club soda, chilled
Make your own pitcher of Carolina Peach Sangria this summer — head to My Recipes for directions.
Make sure to have a drink for us, readers! And as always, enjoy responsibly.