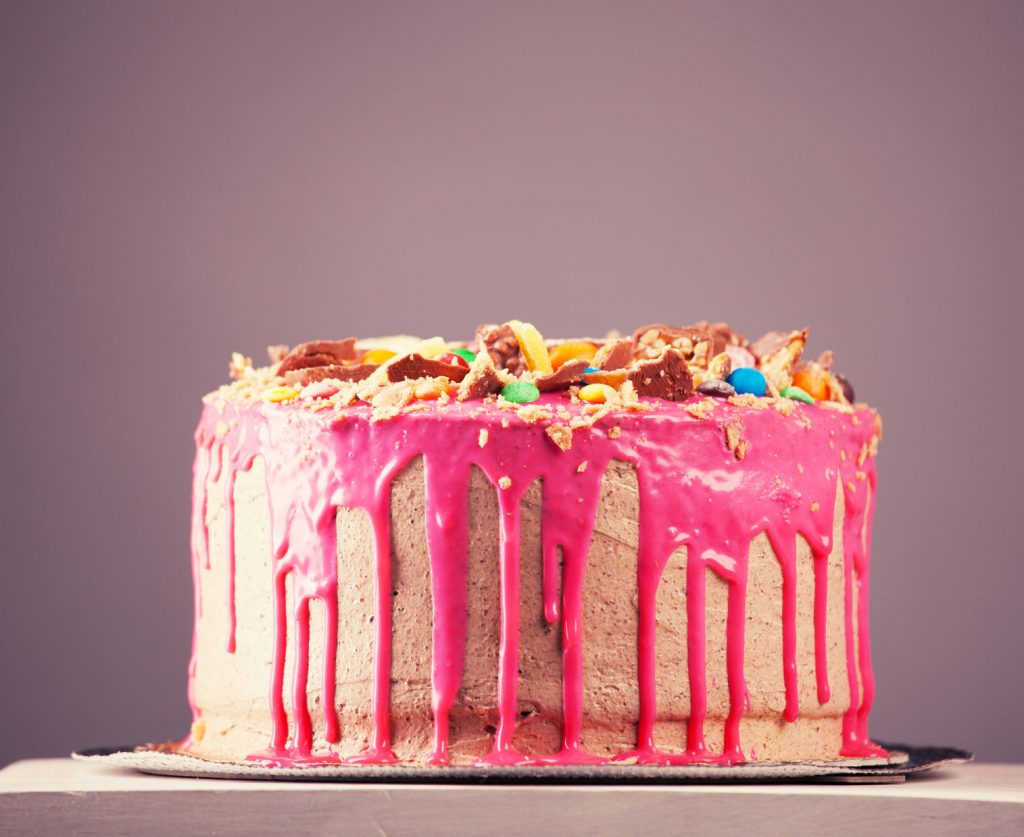 At Weekly Sauce, we're all about balance. What good is obsessively counting calories if all you're going to do is secretly daydream about sugar and soda? So, give yourself a break once in a while; you're only human. Here are three recipes that combine your love for candy with your equal love for cake. If you're going to indulge your sweet tooth, you might as well go all out, don't you think? (Maybe don't whip these up every cheat day, though.) Indulge and enjoy!
Twix Cake
This first cake comes with a warning – richness and decadence abound! Even cut into 15 pieces, each slice will put you back about 600 calories. But for you choc-aholics out there who can handle it, this cake is well worth it!
Ingredients:
1 box chocolate cake mix of your choice – German, fudge, devil's food, or plain, old standard chocolate
1 can sweetened condensed milk
1 jar of Smucker's Caramel Ice Cream Topping
1 8 oz. tub of Cool Whip
6 Twix candy bars – frozen
Directions
Prepare and bake the cake according to the directions on the box. Do so in a 9×13 pan.
As soon as you pull the cake out of the oven, use the handle of a wooden spoon to poke holes in its surface. Don't just poke a few – really get to pokin'!
Once you've poked the holes, pour the can of sweetened condensed milk all across the top of the cake – even pouring it in the holes. Then spread it out as best you can.
Then let the cake cool.
Once cool, pour the caramel ice cream topping across the cake, just as you did the condensed milk.
Then spread the Cool Whip on top of that. Tap a spoon, spatula, or knife against the surface of the Cool Whip – or drag it through to make a swirly pattern.
Lay the candy bars – still wrapped and frozen – on your counter. Whack them with the handle of a butter knife until they are broken into little pieces.
Then, holding the candy bars over the cake, unwrap them. Sprinkle the broken bits across the top of the cake, evenly.
Pop it in the fridge for a couple hours before serving – or, for even tastier results, refrigerate overnight.
Reese's Peanut Butter Cup Cake
Creamy, chocolatey, and simultaneously sinful and heavenly, this cake is perfect for anyone who loves Resse's Peanut Butter Cups – or any cake-lover, in general.
Ingredients
1 (18 1/2 ounce) box dark chocolate cake mix
1 1⁄3 cups water
1⁄2 cup vegetable oil
3 eggs
2 cups powdered sugar
1⁄2 cup creamy peanut butter
1 1⁄2  teaspoons vanilla
1⁄4 cupmilk
1 (12 ounce) package semi-sweet chocolate chips
6 -8 Reese's Peanut Butter Cups, chilled then chopped
Directions
Prepare cake according to directions for a 9X13 pan. Set aside to cool.
Mix peanut butter, powdered sugar and vanilla with mixer.
Add small amounts of milk until desired consistency is achieved. This is frosting; so thicker is better.
Spread evenly over cool caked. (Hint — if cake is partially frozen, there is less "tearing" when spreading the frosting).
Melt chocolate chips in microwave for one minute. Stir to ensure all is melted and it has a slightly "runny" consistency. Makes it easier to spread!
Spread this over the top of the peanut butter frosting, spoonfuls at a time. Reheat if it hardens.
Sprinkle the chopped peanut butter cups over the warm chocolate to ensure it sticks. Chill to set chocolate.
This will be easier to cut at room temperature as the top chocolate layer will have hardened. You can bypass that difficulty by cutting thru the first layer before it sets too hard. Not a problem really if you don't; just not as pretty if the top breaks while cutting it.
Two alternatives; you can use a bundt cake pan and make the peanut butter frosting a little thinner in that case so it "drips" better. Also, you could add the chopped peanut butter cups to the cake mix before baking.
Cadbury Crème Egg Cupcakes
Need I say more? Delicious moist cupcakes coupled with creamy Cadbury eggs, this combination is a symphony for your mouth.
Ingredients
24 paper cupcake liners
Batter for 24 cupcakes. Box mix works fine or simply use your favorite chocolate cupcake recipe, — it's your call.
48 Mini Cadbury Creme Eggs (24 frozen) – You'll use the frozen ones inside the cupcake batter. Freezing the eggs keeps them from completely vanishing inside the baked cake.
1 batch of buttercream frosting – see this link for a great recipe.
yellow dye
Large round piping tip (or snip the end off of a piping bag)

Directions

Scoop batter into paper liner 2/3 of the way full. Place one frozen Mini Cadbury Creme Egg into the middle of each cupcake. Use a spatula to spread the batter over the egg.

Bake according to the recipe you are using. Allow cupcakes to cool completely.

While your cupcakes are cooking, make your buttercream. *Remove about 1 cup of buttercream from the mixing bowl and dye it yellow.

Assemble your piping bag, fitted with a large tip and pipe a large circle of regular buttercream around the perimeter of the cupcake.

Fill in the center of the circle with the yellow buttercream and top with a Mini Cadbury Cream Egg.

Voila! Make sure to think of us when you're digging into your delicious treats. ;)