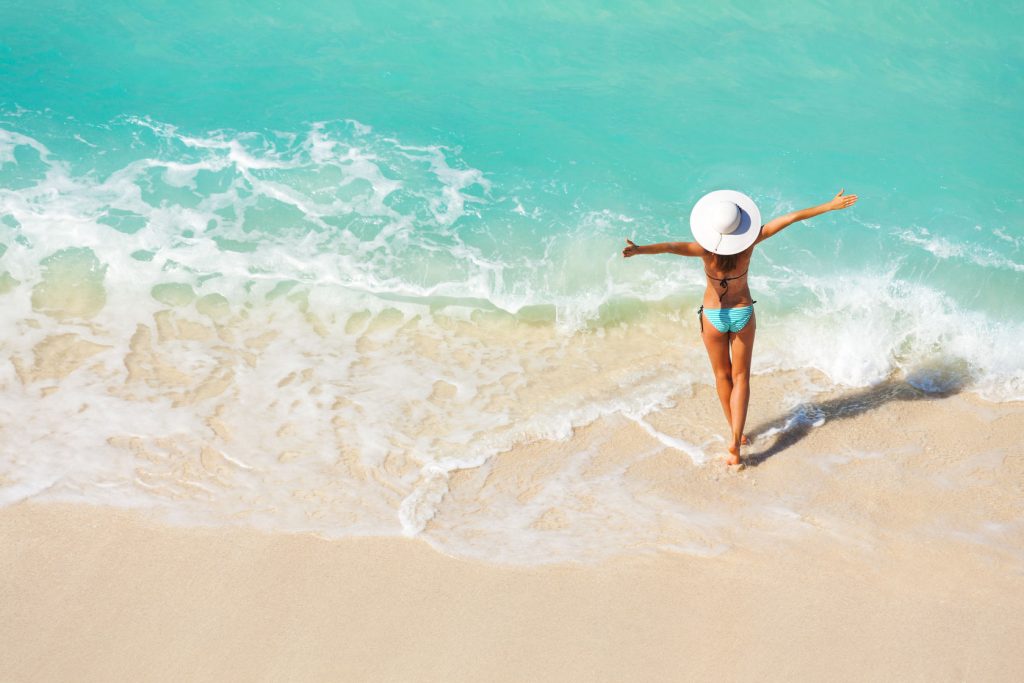 Sunnies? Check. Cute cover-up? Got it. Now you just need to find a beach to spend some of these summer afternoons. If you live in Florida or Southern California, it's no big deal — the beach is always down the street. But for the rest of us, it may be a little more of a hunt to find a decent stretch of sand. Don't fret, Weekly Sauce has done the research for you, and here we've listed the best beaches from coast to coast. Some are bigger than others, while others may have a few more amenities. Stack chips at casinos in Mississippi or go for a hike before the beach in Maine. Grab your board and land an ollie at the skate park in AZ, or go sandcombing in Northern California. You have options now. So even if you need to rent a car and toss your tote in the trunk, bring your girls (or your beau!) and make it a point to catch rays this season.
Midwest: Bradford Beach, Milwaukee, WI
Sure, Chicago has a few beaches beyond the skyscrapers, but if you want to have a quiet and tranquil experience, head out to Bradford Beach over in Wisconsin. They have a series of volleyball events throughout the summer, too — it's one of the things this particular spot is known for so if you've got skills, you may want to head out early and get a quick round in with your friends before the games begin.
Southwest: Stinson Beach, Marin County, CA
It never rains in Southern California, right? But that doesn't mean Northern Cali shouldn't get any love. Just above the Bay sits Stinson Beach, a quick getaway spot for those who reside close to San Francisco. The beach boasts three-and-a-half miles of sand and picnic areas. You're free to swim, surf, and more — but there have been a couple of shark attacks in the past, so watch out for those.
Southeast: Gulf Coast Beach, Biloxi, MS
When Hurricane Katrina hit the Gulf Coast more than a decade ago, a stretch of states from Louisiana to Mississippi and Alabama were all devastated. It's taken a while to pick up the pieces, but finally the Gulf Coast is back in order, and we can't wait to get down there. Quite possibly the most beautiful beach in the southeast — outside of Florida's — exists in Biloxi, Mississippi. Twenty-six miles of white sand? That works. Rent jet skis or paddleboards, and get your workout in. After you guys shower and clean up, grab some fresh seafood from one of the neighboring restaurants for dinner and hit any one of the casinos close-by for some nighttime fun.
Southwest: Rotary Beach, Lake Havasu City, AZ
It's tough to find a beach in Arizona and in addition to that, if you're there in the dead of summer, you definitely may want to avoid the sandy shores of Rotary Beach. As early as June, temperatures top 100 degrees, so sure, head out, but maybe go before noon or as the sun is setting. Outside of the unyielding heat in the summer, this spot is ideal. Freshwater and white sand — safe enough for swimming or boating, when you're content and you've had enough sun, pack up and go for a walk on one of Rotary's trails or hit the skate park and people-watch.
Northeast: Sand Beach, Mount Desert Island, ME
When you think of beaches, we're pretty sure you aren't thinking of Maine, but maybe you should. Especially if you're sitting in New York City or Boston while reading this. Granted, both of those places have quite a few options for sun, sand, and surf but if you want to try something new this summer, head up the coast to Sand Beach on Mount Desert Island in Maine. This is a family-friendly location, so watch out for the little kids but outside of that, it's a pretty low-key spot to enjoy some summertime fun. The saltwater ought to get your skin toned and exfoliated — another plus — and there's a tremendous view of the island's pristine nature from the hiking trails above the beach.