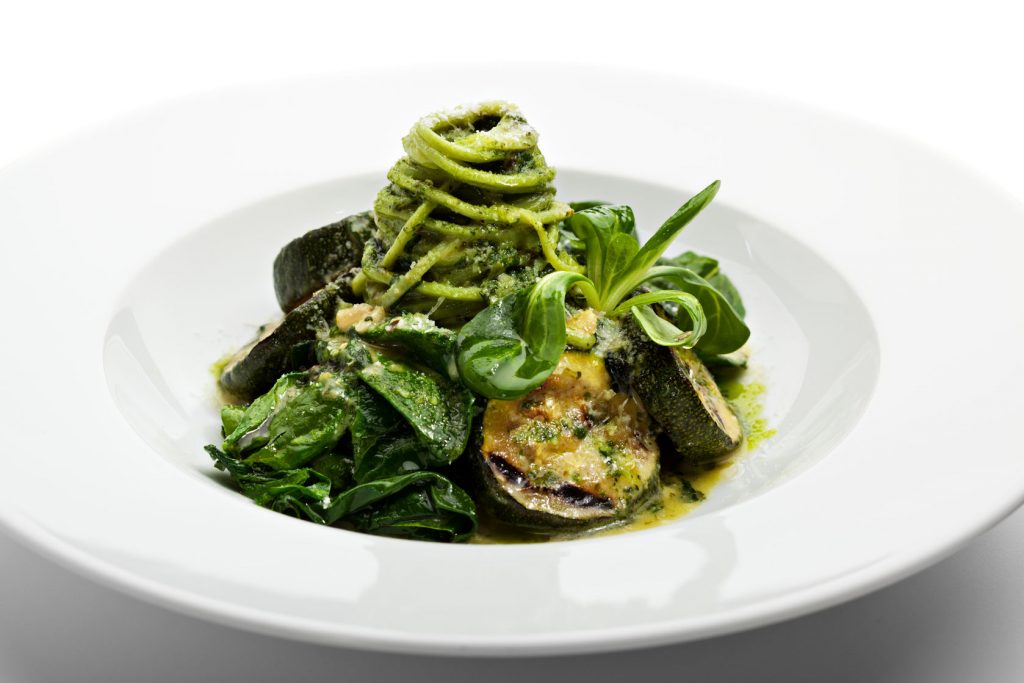 I LOVE pasta.
But I hate the carbs – and I mean, HATE. After doing a little soul searching, I realized, I'm not sure the noodles themselves are what draw me. The main thing I love about pasta is its versatility. You can ladle it with sauces, dream up dozens of different toppings to serve with it, throw it in all kinds of soups — the possibilities are endless.
So, I decided to give the spiralizer a try. This nifty little gadget turns veggies – zucchini seems to be the most popular vegetable to use – into noodle-type spirals. And I'll tell you what, when you have the right recipe, you can barely tell you're not eating actual noodles! I'm sure many of you are skeptical – this sounds similar to those folks out there who tell you vegan bacon is indistinguishable from the real thing. (We all know that's not true, and let me tell you, this is no vegan bacon.) Zucchini, when spiralized, makes for seriously meaty and yummy noodles. And when paired with the right sauce, ingredients, and recipe, I bet you won't miss normal noodles one bit. The spiralizer works on numerous veggies, allowing you to whip up delicious salads, soups, pasta dishes, and more. The one I purchased off Amazon came with different different blades, giving it tons of versatility. There are countless spiralizer recipes out there – from fancy pasta dishes to summer salads and Asian concoctions – but these are three of my favorites!
Avocado Pesto with Zucchini Pasta
Serves 2; 609 calories
Ingredients
3 zucchini, trimmed
1 ripe avocado – peeled, halved, and pitted
5 tablespoons pesto, or more to taste
1 skinless, boneless chicken breast
1/2 teaspoon paprika
1 pinch salt and black pepper to taste
olive oil, divided
2 tablespoons grated Parmesan cheese (optional)
Directions
Prep: 25 mins
Cook: 20 mins
Ready In: 50 mins
Make zucchini noodles using a spiralizer.
Mash avocado in a small bowl and mix in pesto until smooth.
Flatten chicken breast with a meat hammer. Season on both sides with paprika, salt, and black pepper.
Heat 1 tablespoon olive oil in a large skillet over medium heat. Cook chicken until golden and an instant-read thermometer inserted into the center reads at least 165 degrees F (74 degrees C), about 6 minutes per side. Cool until easily handled, about 5 minutes; dice into small pieces.
Heat remaining 1 tablespoon olive oil in a large skillet over medium heat. Add zucchini noodles; cook and stir until softened, 5 to 7 minutes. Stir in avocado pesto mixture and diced chicken; cook until flavors combine, 3 to 5 minutes. Sprinkle Parmesan cheese on top before serving.
Chicken Zoodle Soup
Serves 6; 208 calories
Ingredients
2 tablespoons olive oil
1 cup diced onions
1 cup diced celery
3 cloves garlic, minced
5 (14.5 ounce) cans low-sodium chicken broth
1 cup sliced carrots
3/4 pound cooked chicken breast, cut into bite sized pieces
1/2 teaspoon dried basil
1/2 teaspoon dried oregano
1 pinch dried thyme (optional)
salt and ground black pepper to taste
3 zucchini squash, cut into 'noodles' using a spiralizer
Directions
Prep: 20 mins
Cook: 25 mins
Ready In: 45 mins
Heat olive oil in a large pot over medium-high heat. Saute onion, celery, and garlic in hot oil until just tender, about 5 minutes.
Pour chicken broth into the pot; add carrots, chicken, basil, oregano, thyme, salt, and pepper. Bring the broth to a boil, reduce heat to medium-low, and simmer mixture until the vegetables are tender, about 20 minutes.
Divide zucchini 'noodles' between six soup bowls; ladle broth mixture over the "noodles."
Grilled Shrimp over Zucchini Noodles
Serves 5;  356 calories
Ingredients
Lemon Basil Dressing:
2 cups thinly sliced fresh basil
9 tablespoons olive oil, divided
1/3 cup toasted sliced almonds, divided
1 tablespoon red wine vinegar
1 shallot, coarsely chopped
2 cloves garlic, coarsely chopped
1 lemon, zested
1/4 teaspoon red pepper flakes
1 pound shrimp, peeled and deveined
5 zucchini
kosher salt and freshly ground black pepper to taste
Directions
Prep: 10 mins
Cook: 5 mins
Ready In: 15 mins
Blend basil, 1/2 cup olive oil, 1/4 cup almonds, vinegar, shallot, garlic, lemon zest, and red pepper flakes in a blender until lemon basil dressing is smooth.
Heat 1 tablespoon olive oil in a skillet over medium-high heat; saute shrimp until cooked through and pink, 2 to 4 minutes. Remove skillet from heat and mix shrimp with 2 tablespoons dressing in a bowl.
Run zucchini through a spiralizer to create spaghetti-size noodle shapes. Add to skillet; cook and stir over medium heat until zucchini noodles are tender, 1 to 2 minutes. Add 2 tablespoons lemon basil dressing and toss to coat. Remove skillet from heat.
Arrange shrimp on top of zucchini noodles; season with salt and black pepper. Top with remaining almonds.
---
All recipes courtesy of Inspiralized.com. For more delicious recipes using spiralized veggies, head over to their website.