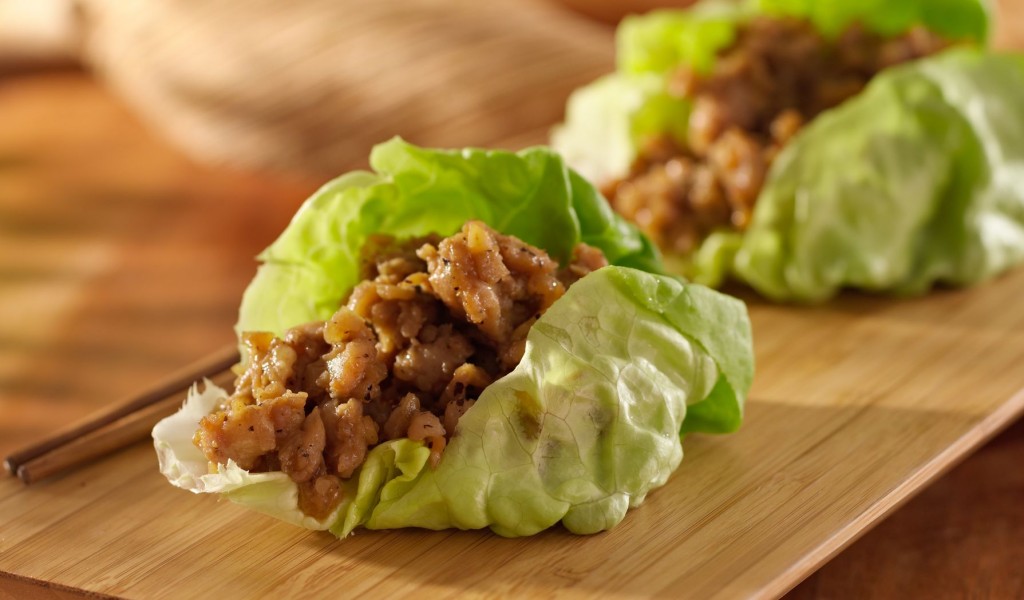 My mom recently bought a new cookbook entitled Cravings: Recipes for All the Food You Want to Eat. The book was written by self-proclaimed food-lover and model Chrissy Teigen. After perusing this cookbook a bit, it's obvious she has some serious kitchen chops (ha). One recipe in particular caught my mom's attention. Chrissy says it's her go-to easy, healthy, and flippin' delicious meal. In fact, she says she finds herself scouring the fridge for crumbs from this dish. Obviously intrigued, my mom decided to give it a try, and this past weekend while visiting my family back in Texas, I had the immense pleasure of plunging my face into these addictive lettuce wraps. Based on the ingredients, they are definitely healthy – but based on taste alone, you'd never know it. I honestly cannot recommend this dish highly enough, and after stuffing my face with it all weekend, I've already purchased Chrissy's entire cookbook.
Chrissy Teigen's Mouth-Watering Thai Lettuce Wraps
Serves: 6
Prep time: 15 minutes
Total time: 30 minutes
Ingredients
Sauce
3 Tbsp. Thai sweet chili sauce
3 Tbsp. hoisin sauce
3 Tbsp. light soy sauce
2 Tbsp. Sriracha
2 Tbsp. vegetable oil
1 tsp. sesame oil
1½ Tbsp. unseasoned rice vinegar
2 Tbsp. minced garlic (about 4 cloves)
1 Tbsp. minced fresh ginger
Filling
1 lb. ground chicken
3 Tbsp. vegetable oil
8 scallions, thinly sliced, whites and greens kept separate
1 Tbsp. minced garlic (about 2 cloves)
1 Tbsp. minced fresh ginger
½ pound white mushrooms, trimmed, cleaned, and finely chopped
½ cup finely diced canned water chestnuts
1 small red bell pepper, finely chopped
2 heads butter lettuce, leaves separated
Directions
Make the sauce: In a bowl, combine the chili sauce, hoisin, soy sauce, Sriracha, vegetable oil, sesame oil, vinegar, garlic, and ginger.
In a bowl, mix 2 Tbsp. of the sauce into the ground chicken.
In a large skillet, heat 2 Tbsp. of the vegetable oil over medium-high heat. When shimmering-hot, add the chicken and cook, breaking up the meat with a wooden spoon, until browned, 5 to 6 minutes. Transfer the meat to a plate and set aside.
Add the remaining 1 Tbsp. oil to the skillet, then add the scallion whites, garlic, and ginger and cook, stirring, for 1 minute.
Add the mushrooms and cook, stirring, until they release their liquid, 3 to 4 minutes. Return the chicken to the pan, then add the water chestnuts, bell pepper, and the rest of the sauce and cook, stirring, until cooked through and the liquid has reduced and thickened slightly, 3 to 4 minutes. Stir in the scallion greens.
Transfer the mixture to a bowl and set out with the lettuce leaves.
Get busy scooping and don't be surprised if you find yourself immediately addicted!
Note: I'm not a fan of mushrooms, so when my mom made this for me, she left them out and doubled up the amount of water chestnuts and bell pepper. According to her – despite her love for the squishy fungus – she says it was equally as good. So if mushrooms aren't your jam, just know you can improvise this way without sacrificing the taste.
Grab your own copy of Cravings: Recipes for All the Food You Want to Eat for more delicious recipes to add to your repertoire.
---
Recipe reprinted from Cravings: Recipes for All the Food You Want to Eat. Copyright © 2016 by Chrissy Teigen and Adeena Sussman. Published by Clarkson Potter/Publishers, an imprint of Penguin Random House LLC.