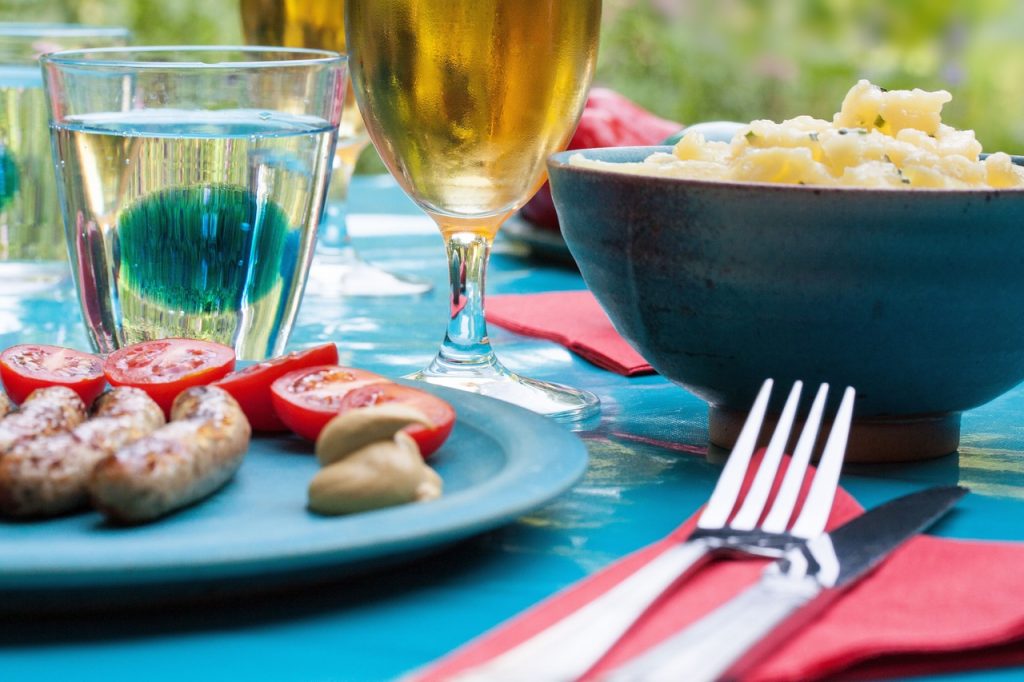 With the temperatures finally climbing from coast to coast — after a very fickle winter-spring transition — it may be time to kick off your first outdoor event of the year. There's nothing simpler than the backyard barbecue. Whether you want to class it up or keep things simple, you have options in planning your BBQ soiree. Tweak the decorations or jazz up the tried-and-true menu with some new choices, then invite some good people over for drinks, dinner, and dancing while the sun sets and the night falls.
Give 'Em Something To Do
While the grill is flaming and everyone's waiting on the main course, be sure to provide some games for your guests. Cards Against Humanity is a good one. Or start buying 2 x 4 pieces of wood to create a giant Jenga set. Or if they're more of a physical bunch, grab a beanbag toss or badminton set up from the store and go wild.
Set the Table
Keep it simple with a brown paper "tablecloth" or patterned gift wrap as a runner. Centerpieces are important — even at a barbecue. You don't have to order anything extravagant, but in keeping with the theme of being outside, try implementing plenty of green. If you want to throw flowers in there too, keep it simple with daisies and/or daffodils. Or for something pretty and functional, provide your guests with a centerpiece to snack on. Redbook suggests gathering raw veggies in glass containers and grouping them by height — they'll look great and your friends won't feel bad about noshing while waiting on the main course.
Drink It In
The Party Dress shares this yummy bubbly treat with us:
Chill a bottle of champagne. Scoop sorbet into cocktail glasses — one scoop per glass. Raspberry is the one featured in The Party Dress, but Redbook also experimented with mango. Be sure to serve with a spoon and maybe a sprig of mint as a garnish.
Another great idea is to premix the drinks (without the alcohol) up to six hours before. It's an awesome time-saver, and one less thing you have to do the day of the BBQ. Also, use berries as ice — so stock up on raspberries and blackberries to add to your cocktails.
Pioneer Woman Ree Drummond from The Food Network shares a delicious raspberry lemonade recipe that would make the perfect accompaniment to all the savory foods you'll be grilling up. It couldn't be easier to whip up, since it only lemon juice, sugar, water, and — you guessed it — raspberries.
Chow Baby
Whether you're doing burgers and hot dogs as your main course, or ribeyes and lobster tails, you've got to be sure to have some appetizers available and on hand that should appeal to everyone.
Skinny Grilled Mexican Corn from The Cookie Rookie
Ingredients
4 ears of fresh Sweet Corn (shucked)
2 T plain Greek Yogurt
2 T lite sour cream
3/4 cup shredded Parmesan cheese
1 tsp chili powder
1 tsp Fiesta Lime Mrs. Dash (opt)
Dash of salt and pepper
1/4 cup fresh cilantro, chopped
1 lime, cut into wedges
Light Olive Oil or Olive Oil Spray
Grilled Avocados With Black Bean and Sweet Corn Pico de Gallo from A Southern Fairy Tale
Ingredients:
2 ripe California avocados
1 can Black Bean and Sweet Corn Pico de Gallo
2 Tbsp olive oil
2 Tbsp chopped fresh cilantro
Juice of 2 limes, freshly squeezed (roughly 1½ to 2 Tbsp)
Fresh Summer Orzo Salad from Whisking Mama
Ingredients
2 cups of dry orzo
1 seedless cucumber
1 large container of cherry or grape tomatoes
8 ounces of crumble feta (or more if you like feta)
2.5 teaspoons of lemon pepper seasoning or herb and sea salt(from Crate and Barrel)
Juice of 1.5 lemons
1 bottle of red wine & olive oil vinaigrette
Salt and pepper to taste
Whenever the food is prepped and ready for plating, of course you have to worry about the potential pests hanging around for a taste. Think about purchasing small jars with the lids attached, that way your guests can have their side items already portioned out — they can grab a morsel and seal it up again, and the bugs don't get in.
Use some of those containers for dessert too! The Inspired Room has some awesome ideas for a backyard ice cream station. Portion the frosty treat in those same lidded jars, then put those in an ice bucket. Separate a variety of toppings in pretty bowls — from gummy bears to sprinkles, nuts and chocolate chips. Label it all with standalone signs and let your guests go to work.