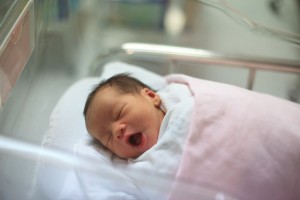 There are thousands upon thousands of products and services claiming to make life easier for new moms—but they're not all worth having. Do you really need an iPad holder for your baby's training potty? How about a diaper poop alarm? Absolutely not necessary.
However, there are some things new moms shouldn't live without. Here are 10 of them.
1. A really good diaper bag
Your diaper bag is about to become your best friend. Make sure you invest in one that's sturdy and hands-free, with plenty of pockets (including "grownup" pockets for your phone, keys, and the like)—and either clips to your stroller, or fits in the stroller basket.
2. Cloth diaper service
You don't need to be Green Mom of the Year to appreciate this one. Cloth diapers are cheaper (in the long run), less toxic, and they can serve as burp and spit-up rags, quick cleaners, baby sun shields, emergency breast adjustment covers, and more. Plus, with a service someone picks up your dirty diapers and gives you clean ones every day.
You can also keep disposables around for traveling and emergencies.
3. Diaper caddy
Proud owners of brand new changing tables will probably think they have no need for a portable baby-changing kit—until the baby comes along, that is. When the diaper needs changing, you'll want to do it wherever you are. A diaper caddy stores all the essentials and travels easily from room to room, so you can change baby on the couch, the coffee table, or the floor without running upstairs every time something smells funny.
4. Diaper bag dispenser
Whether or not you use cloth, you'll probably resort to disposable diapers when you're on the go. And the best thing to have with you (besides more diapers) is a travel-sized dispenser that holds small, scented trash bags. Toss the used diaper in, tie it shut, and throw it away in public trash cans without worry.
5. Dishwasher bottle basket
Quite simply, washing bottles sucks. You don't want to stand there scrubbing out baby bottles with a wire brush at the end of the day when baby's down for the night—you want to sleep while the sleeping's good. A bottle basket keeps all the little parts from getting lost in the dishwasher, so you'll never have to scrub a single thing.
6. Nipple shields
Breastfeeding? These handy little clear, soft silicon shields not only make it easier for baby to latch on, but also protect your sensitive breasts from soreness and chafing. Get some.
7. Hooter hider
Another must for breastfeeding moms, these "nursing covers" are chic, fashionable apron-style cover-ups that keep baby (and breast) covered wherever you're nursing, and have special boning that keeps the neckline curved out, so you can look down and see your baby.
8. Temporal artery thermometer
New moms, especially first-baby moms, can often develop fever-fever. This is where you believe your baby is emergency-room sick if she feels even a little warmer than usual, and you must check her temperature now. Rather than trying to hold something under baby's arm, or worse, waking a sleeping baby for a rectal temp check, you can just swipe this thermometer across baby's forehead and get a fairly accurate (and reassuring) reading.
9. Bathtub divider
Those little plastic baby tubs are darling. They're also extremely inconvenient. Once your baby passes the tiny infant stage, invest in a bathtub divider that lets you fill about one-third of the tub—saving water, time, and mess.
10. A memory keeper
You don't have to invest your time and money into a Martha Stewart-esque, heirloom quality baby book (though you can, if you want to). However, you do need a quick and convenient way to document those little moments you'll never want to forget. Since writing things down can be challenging with a baby, go for convenience with a baby book web app. That way, you've got your camera and keepsake storage all in one place.