The holidays are quickly approaching, meaning it's time to start reflecting on the things that really matter: family, friends… and food. Lots and lots of tasty food (not to mention the amazing desserts that are part and parcel of the season). But if you want to indulge in that third slice of your grandma's pumpkin pie without any regrets, maybe it would pay off to start eating a bit healthier in the upcoming days. Forget that greasy (and overpriced!) burger and make something for lunch that both your tummy and wallet will find irresistible. Just because lunch is coming from home doesn't mean it has to be dull and dry. Try these recipes for luscious lunches and feel extra-good about wearing your stretch-waist jeans on Thanksgiving and Christmas Day.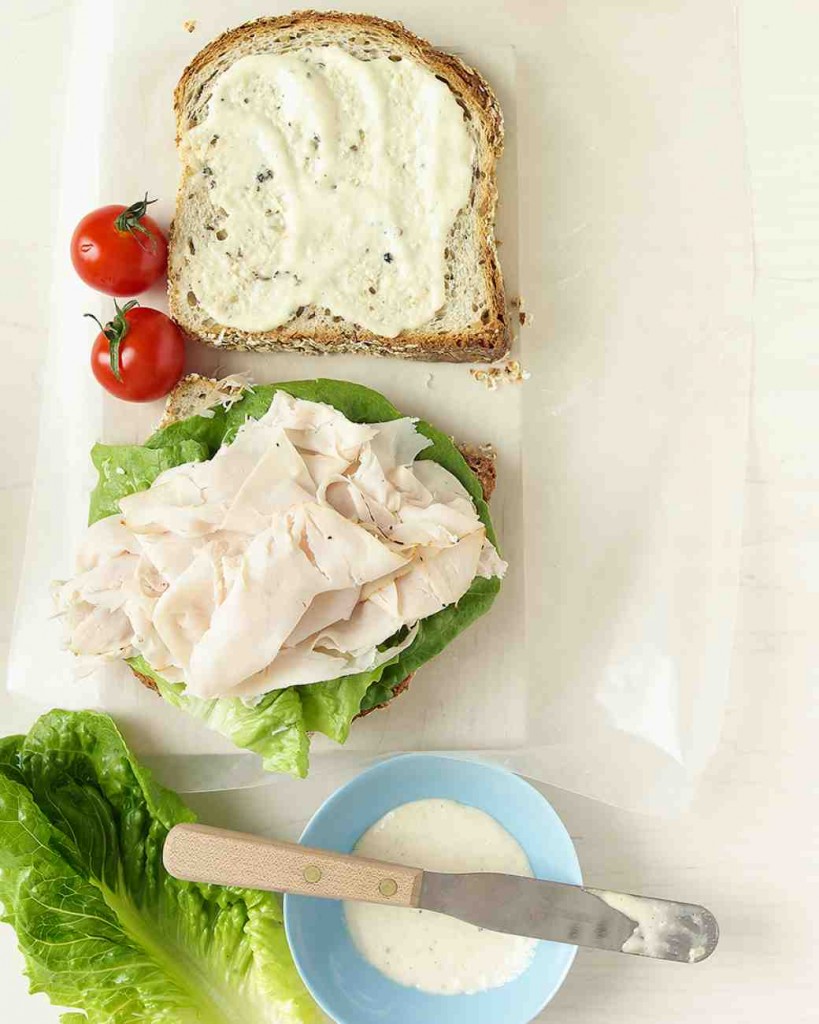 Turkey Caesar Sandwich (recipe and image courtesy of marthastewart.com)
If there was a food award for combining a salad and a sandwich into one, this recipe would win hands down. The creamy homemade (and healthy) Caesar dressing is the perfect addition to lean turkey… and may just be the best thing since sliced bread.
Ingredients:
1 tablespoon Parmesan cheese, grated
2 tablespoons light mayonnaise
2 tablespoons freshly-squeezed lemon juice
1 dash Worcestershire sauce
Salt and ground pepper to taste
2 slices multi-grain bread
2 or 3 leaves Romaine lettuce
3 ounces thinly-sliced smoked turkey
Preparation:
In a small bowl, combine Parmesan, mayonnaise, lemon juice, and Worcestershire; season with salt and pepper. Spread on both bread slices.
Break lettuce into large pieces; layer half on one slice of bread. Top with turkey, remaining lettuce, and bread.
Chef's Note: If storing overnight, top bread with lettuce first, the dressing (to keep the sandwich from getting soggy). Also, consider using some of that leftover turkey from Thanksgiving! Waste not, want not.
Sweet Pea and Mint Soup (recipe courtesy of realsimple.com)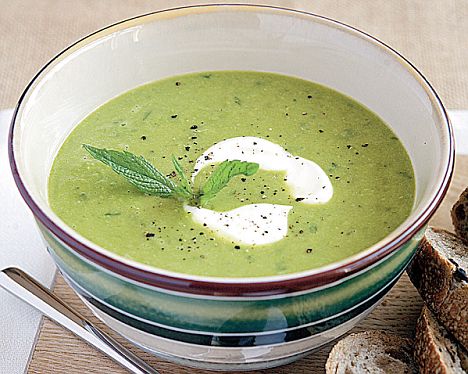 This soup is so simple to make and it's absolutely flavorful. The best part is there's no need to heat it so you don't have to worry about fighting over the microwave at your office.
Ingredients:
2 tablespoons unsalted butter
1 onion, chopped
2 cups low-sodium chicken or vegetable broth
1 lb package frozen peas
¾ cup loosely-packed fresh mint leaves
kosher salt to taste
Preparation:
Melt the butter in a medium saucepan over medium heat. Add the onion and ¾ teaspoon salt and cook, stirring often, until tender, 6 to 8 minutes. Add the broth and bring to a boil.
Place the peas and mint in a blender and add the hot broth mixture. (Because hot liquids expand when blended, hold the lid firmly in place with a kitchen towel before blending.) Blend until smooth. Return to saucepan to heat through, if necessary.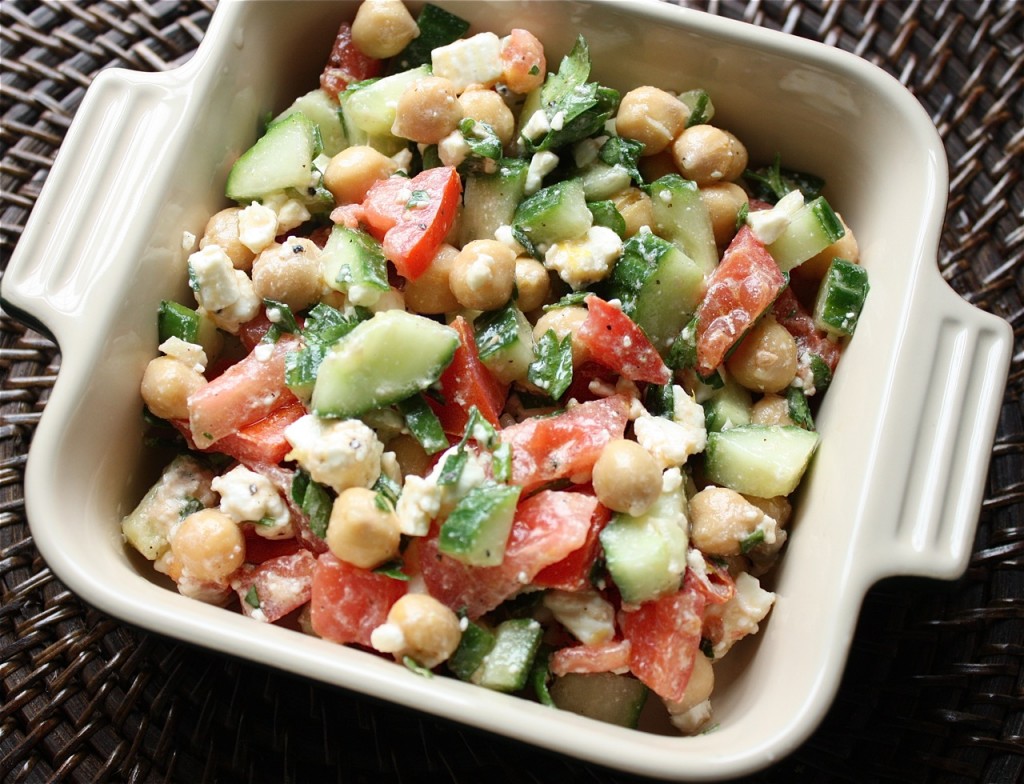 Mediterranean Cucumber Tomato Salad (recipe courtesy of weeknightbite.com)
You'll forget how healthy this salad is as soon as you take your first bite. It makes about three servings, which is a good thing since you'll eat this so quickly you will probably need more than one serving.
Ingredients:
2 Persian cucumbers, chopped
1 ½ cups cherry tomatoes, halved
1 can garbanzo beans
1 handful of toasted pine nuts
1 ½ tablespoons fresh mint, finely minced
¼ cup Italian flat-leaf parsley, finely minced
Dressing
1 shallot,chopped
½ lemon, juiced
2 tablespoons extra virgin olive oil
½ teaspoon salt
If you're a cheese lover, add goat or feta.
Preparation:
Combine all elements of salad and dressing and combine.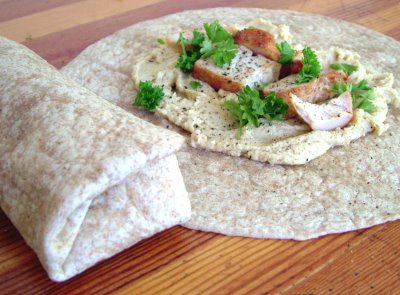 Chicken & Hummus Wraps (recipe courtesy of bhg.com)
I don't care if it's Taco Tuesday, don't you dare make a run for the border. Just say "no" to an unhealthy taco and grab a wrap instead. This chicken-an-hummus wrap is healthy but you'll forget that because it's so creamy. Between the chicken and the hummus you'll get enough protein to keep you focused for the rest of the day. This wrap will keep you looking lean and prep you to do some serious damage at the dinner table.
Ingredients:
4 10-inch flour tortillas
7-ounce carton of hummus (desired flavor) OR
8-pounce tub of vegetable-flavored cream cheese spread
1/3 cup plain low-fat yogurt or dairy sour cream
6-ounce package refrigerated cooked chicken breast strips
¾ cup Roma tomatoes, coarsely chopped
¾ cup cucumber, thinly sliced
Preparation:
Spread hummus or cream cheese evenly over tortillas; spread sour cream or yogurt over hummus. Top with chicken, tomatoes, and cucumber.
Chef's note: For a bit of extra crunch (not to mention some vitamins and minerals), add some fresh spinach or Romaine lettuce.
---
Enjoy these recipes now so you can enjoy your holiday favorites even more later! Hopefully, you like them so much that you make them a rule and not exception when it comes to your lunch routine.
By: Abby Stern