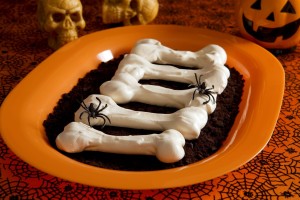 Our yearly Halloween movie night has come and gone (yes, we did it SUPER early this year) but that hasn't stopped us from salivating over some of the deliciously spooky halloween themed treats we've seen all over the web. For the past couple of years, we've invited a small group of friends over to enjoy an incredibly campy horror flick, while munching on themed treats and strong cocktails.
This year, we chose to do easy to make treats, but ones that packed a punch to everyone who saw them. We'll share the ones we made, and some we didn't, but plan to use next year.
1) Pumpkin Puking Guacamole – This is a really easy one, and it's always a huge hit. Some people buy pre-made guacamole, but we always recommend making it from scratch when you can.
2) Skinned Alive Skeleton Head – My mom gave me this idea, and people literally freaked out when they saw it. It's SO easy to make, and it can be the center piece for your food table.
3) Zombie Jello Brain – Another super fun, and incredibly simple addition to the food options for the night. Just buy a jello mold in the shape of a brain (we got ours on Amazon.com) and make enough red jello to fit in the mold. We added evaporated milk to ours to make it look more pink and opaque.
4) Spider Cookies – This is one we saw on Facebook and WISH we'd made but just ran out of time. You can either make these from scratch, or buy some pre-made dough to bake quickly before your guests arrive.
5) Pretzel Bones – We didn't make these this year, but we wanted to! Just take thin pretzel sticks, attach mini marshmallows to each end ("glue" them with white chocolate) and then dip the entire thing in melted white candy coating.
Hope you enjoyed our list of treats! Share your favorite Halloween themed food with us in the comments.