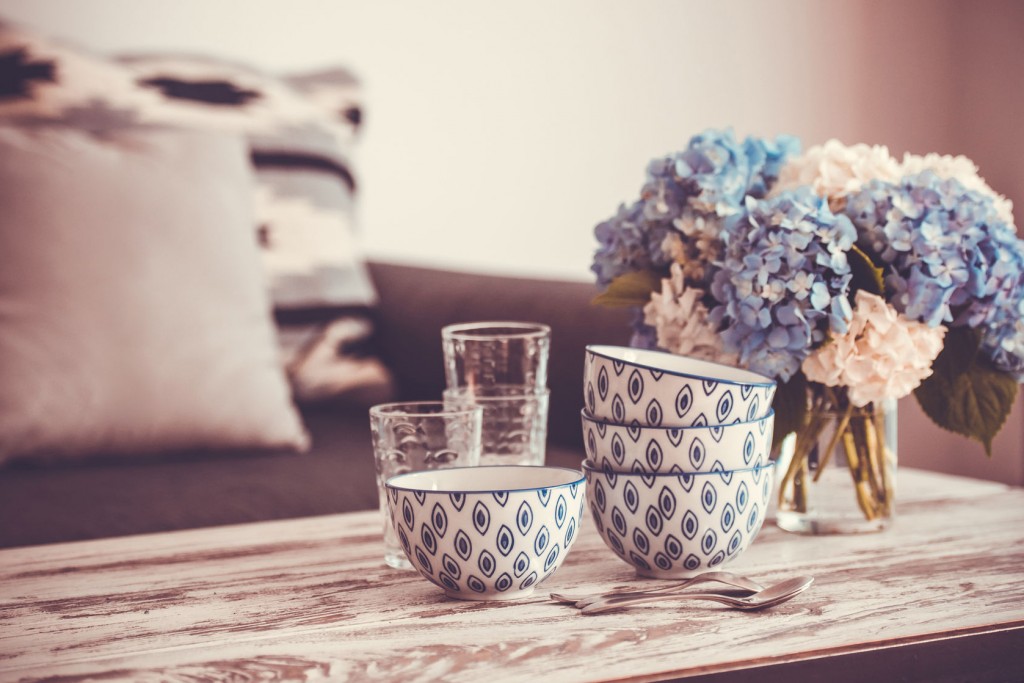 There's nothing like coming home to a space you're in love with, because it's yours. You picked out the shades on the walls and you chose the perfect complimentary pieces to match your style. So what if it's a little cozy? But the longer you live there, the more you accumulate and your "cozy" home is becoming more and more cluttered and tight. You'd have friends over, but where would they all sit? You'd host a special dinner, but where would you put all the food? Certainly not on TV trays, right? Sometimes, although you love your little place, it becomes claustrophobic… yet moving just isn't in your plans yet. You'd be surprised at the amount of tips and tools of the trade that you could implement to make your space much bigger — or at least seem like it's bigger. Here, Weekly Sauce presents a few ideas — it'll takes some patience on your end, but try them out before breaking down and calling a real estate agent.
Shade-y Dealings
If your rooms are all the same shade of eggshell, it's no wonder your place looks a little small. If you're allowed, paint your walls, ceilings, and trim in colors from the same family, just in different shades to add depth. Here's a rule of thumb: keep the ceilings a lighter shade than what's on the walls, then make sure that the trim is in a darker hue.
Scale to Measure
If your room is already tiny, you definitely want to avoid oversized furniture. Keep your couch or bed on the smaller side if you can. If the space is small, keep your furniture smaller to balance things out.
Table the Idea
Instead of taking up a ton of extra space with end tables and the like, consider using console tables with drawers. That way, you can keep clutter at a minimum by sticking junk mail, extra keys, or even remotes in there — clutter makes small spaces even smaller.
Mirror, Mirror, On the Wall
This tip is tried and true, if you have some time, visit secondhand stores and buy as many mirrors as you can. Oversized or small, either way these will help in your mission of making your place look more spacious. Put the smaller mirrors in narrow entryways or hallways, and place the bigger mirrors ones bedrooms or living areas.
Focus
When you get dressed to head out with the girls, most times you create one focal piece within the outfit, whether it's a statement necklace or a funky pair of heels, right? Why? Because it's always nice to draw the eyes to one focal point when everything else is muted. Same rule applies to the rooms at home. If you can find a nice big print to put on the wall, go for it. Or a huge area rug with a bold pattern. Guests will be so busy admiring your pieces, they'll forget how tiny the room is.
TV Guide
We can bet you have a flatscreen television that you haven't gotten around to mounting just yet. Get on that! Mounting the TV helps in saving space, but if hoisting your big screen against the wall is an idea that makes you nervous, think about finding a smaller, makeshift media center. It doesn't have to be one of those monstrous units that take up an entire wall — it just has to be sturdy enough to hold up your TV. And it has to have drawers. Drawers are a definite necessity.
Tins and Things
All those scattered pens and paper clips on your nightstand? Gather them all and toss them in a decorative tin, box, or some sort of container. Same thing goes for the rest of the rooms in your house. If there's clutter, there's even less space to work with in a spot that's already small. So make full use of storage tools. That even goes for things like your cereal and pasta, etc. You can easily grab some stackable plastic containers from a home store and get rid of the boxes in your cabinets, freeing up even more space.
Think Tall
You may have a ton of media, from physical music albums to magazines and books. Take a moment to think about the best way to store them. If you have space, look into buying a couple of standard bookcases but if you don't have that kind of room then consider vertical storage so you can stack and stack without compromising too much floor space.
Clear the Room
Lucite may not be your first choice when it comes to picking out your furniture but it's brilliant. If you don't have much room to play with, go for furniture that is translucent. It tricks the mind into creating much more space in whichever room you like to use it in. From coffee tables to chairs, if you search hard enough, you're sure to find a piece that could work for your home.
Let us know what tips and tricks you use to turn your space from cozy to cavernous!