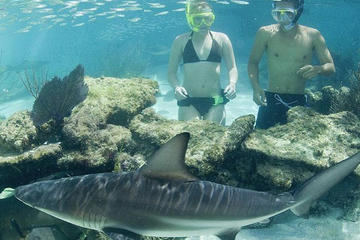 As a devoted Shark Week fan, it always saddens me when Shark Week comes to an end. Perhaps because it's a reminder that the curtains are about to close on yet another gorgeous Southern California summer, or perhaps it's because I'm going to miss titles such as "Zombie Shark" and "Sharksanity" on my cable menu. (Brilliant titles, don't you think)?
This year, I'm excited to report that Shark Week enthusiasts don't have to suffer through another whole year of shark withdrawals anymore. It seems that sharks are making quite a name for themselves in Las Vegas these days.  Of course, you could always take an exotic vacation and go swimming with sharks in the deep blue sea, but if you're looking for something slightly more low-key, and closer to home, here are two Vegas sharkspots that may just tickle your fancy fins.
The Tank at The Golden Nugget
Where pool sharks take on a whole new meaning. Newly renovated, The Tank is a three story structure boasting a 200,000-gallon aquarium that rises up from the center of the pool. Set amidst a colorful reef, the aquarium holds 5 different species of sharks – Sandtiger, Brown, Pacific Blacktip, Nurse, and Zebra sharks – as well as stingrays and other large fish species. The pool allows guests to swim right up to the aquarium and with only the glass enclosure separating the predators from potential prey – I mean, guests – you're given the feeling as if you're swimming alongside the giant beasts. Pretty wild. And then there's the 3 story waterslide that runs through the aquarium. Starting at 30 feet, after some twists and turns, you slide through the aquarium via a transparent part of the tube. If Lady Luck is on your side, and you have eyes that move at the speed of light, you might just catch a glimpse of the sharks swimming around you as you dash through. Be forewarned that there's always a line so expect a wait.
And if all that isn't enough fish for you, you can treat yourself to a Shark Tank Tour where you get to see firsthand how the feeding process works in a 200,000-gallon aquarium. Tickets for the tour are $30 per person and tours begin at 3:30 pm and run Thursday through Saturday.
Since gaining notoriety, The Tank has become quite popular for Vegas visitors. While I think it's worth experiencing if you're in town, I'm not going to get you all pumped up about this place only to have you hate me after your visit. There are a couple of detractions that can take a bite out of the overall experience: the pool can get crowded (but what Vegas pool doesn't?), there can be a lot of children (no, you can't feed the obnoxious ones to the sharks), and the pool water can be murky (yeah…but you're there for the sharks so who cares).
The Shark Reef at Mandalay Bay 
At Shark Reef, sea creatures abound – from sawfish, giant rays, endangered green sea turtles, piranha, jellyfish, and a golden crocodile to seven species of sharks. In all, there are over 2,000 animals in 1.6 million gallons of water. This includes Sandtiger Sharks, Sandbar Sharks, Gray Reef Sharks, Galapagos Shark, Nurse Sharks, White Tip Reef Sharks, Zebra Sharks. Admission to the aquarium is $18 for adults, $12 for children 5-12 and free for children 4 & under. (Nevada residents receive a discounted rate).
For the full experience, you can start off with a guided tour which provides you with a tour of all the exhibits with a Shark Reef expert, and then a tour of Shark Reef's behind-the-scenes areas. Cost: $25 per group (of 8 people). Then, you can splurge on the Shark Feed exhibit where you learn about the feeding process of the sharks at the reef and you can even try your hand (carefully) at feeding some zebra sharks. Pricing for the Shark Feed is $70 per person ($60 for Annual Pass Holders). Times are subject to change so check with the hotel for availability. 
Not shark enough? The Dive with Sharks program gives you the opportunity to dive with over 30 different species of sharks, including Sandtiger, Sandbar and White Tip Reef Sharks. The caveat is that this exhibit is only open to hotel guests that are certified divers – but I guess that's for good reason when you're diving with hungry sharks. You can reserve dives on Tuesday, Thursday, Saturday and Sunday afternoons. Be prepared to shell out the big bucks to swim with the big fish though – fees are $650 per diver, $1000 for 2 divers.
So don't let Shark Week blues take a bite out of your remaining summer. Get in that car, or hop on a plane. I'll see you in Vegas!