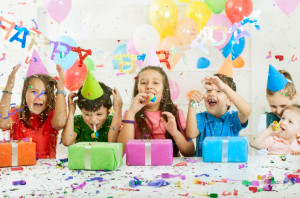 Boy Birthday Party
As a mom of a boy, you only have a certain number of years to throw "cute" birthday parties.  After about the age of four or so, you'll be banished to throwing video game-themed parties or parties completely void of cute plates, decorations and knick-knacks, as a room full of rambunctious boys is similar to that expression about a bull and a china shop.
A pirate party is a cute way to get boys and girls really excited. Dress the birthday boy as the captain, with a toy parrot on his shoulder. Set up a cardboard pirate ship, a sandbox or kiddie pool filled with sand and buried treasure and hand out eye patches, and before you know it, everyone at the party will be chiming "Parrrtee."
A construction themed party, where each guest is given a hard hat and hammer can build some cute birthday thrills as well. Purchase simple wood crafting kits from your local craft or hardware store, and have each guest build something unique. Your guests will enjoy getting to be big kids, and using tools and they will make their own favors.
Girl Birthday Party
You have a much longer opportunity to throw cute birthday parties for girls. In fact, a "girl" could hit 70 before she prefers to be described as "beautiful" or "elegant." But for so long, princesses and fairies have ruled the girl's birthday party scene. For girls, you could practically throw a pink dress on her and call it done. But don't let one person's interpretation of "cute" limit you during this birthday party.
Throw a tea party, fit for the queen herself. Invite your guests to come in their fanciest attire, boys included. Serve "tea" using a fancy silver serving set, and have your guests indulge in kid-friendly finger sandwiches, made with cookie cutters in unusual shapes.
A princess scavenger hunt will test your guest's knowledge of their basic princess stories, and will keep them moving throughout. Use as many classic princess stories as you can to create clues on where your guests can find their next clue, to see who will be crowned as the royal birthday princess. Include hints such as "find me with the peas" for a clue hidden under a mattress or "the fruit that makes you drowsy" for a clue hidden amongst a bowl of apples.
Cute Unisex Themes
If you want a cute theme that will appeal to male and female guests alike there is no shortage of themes that will fit the bill nicely.
A puppy party has ultimate "cute" appeal. Paint your guests' faces with a dog's nose, whiskers and maybe a tongue hanging out. Give them headbands with dog ears. Play games like Owner Says (think Simon Says) and play fetch with a basket of balls. Set out small dog food bowls, and fill them with cereal that is shaped like dog food for snacks. The kids will have a blast pretending to be canines for a day.
Dr. Seuss is one of the most beloved children's authors of all time. Throw a Seuss party that will have them talking for weeks. Surprise each guest with a hat, fit for the Cat in the Hat himself. Serve deviled eggs that have been tinted green, and have a contest to see if your guests can "moo" like Mr. Brown.