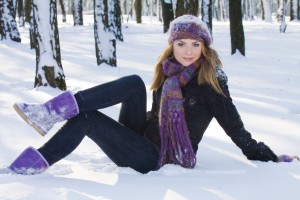 With the weather getting colder with each days passing, it's truly time to bust out all of your warm weather clothing. Some of you are likely yelling at your computer screen right now. Screaming "Sasha, it's 4 degrees where I live, I've been in warm clothing for weeks." To which we reply, "We live in Southern California, sorry." Regardless, we've been all over the internet window shopping our way through the boot department, and we've found some pretty awesome pieces we think you may enjoy.
Come take a stroll down dream shopping lane with us, won't you?
1)
Steve Madden Troopa Boot
– To start, we're hitting you with this beautiful cream colored ankle boot. We love the lace up detail, and that it has a combat style look. A great casual boot for the winter. It also comes in other colors, so if cream doesn't do it for you, you've got options.
2)
Naturalizer 'Jakes Boot'
– We've got another lace up boot for you here, only this time it is a knee high item! This has a bit of a "Hunger Games" look to it, and we love it. Paired with some skinny jeans and a big fluffy coat, and your legs will stay as warm as the rest of your body!
3)
TOMS Cheetah Ankle Boot
– This one has no business being out in the snow, but for you warmer weather winter climate dwellers, this boot is amazing. That's right, we're suggesting you purchase some cheetah wedge boots and we're not apologizing for it!
5)
Kate Spade Roger Bootie
– While these boots have a Mary Poppins vibe to them, they have so much character, we couldn't leave them in our imaginary shopping cart.