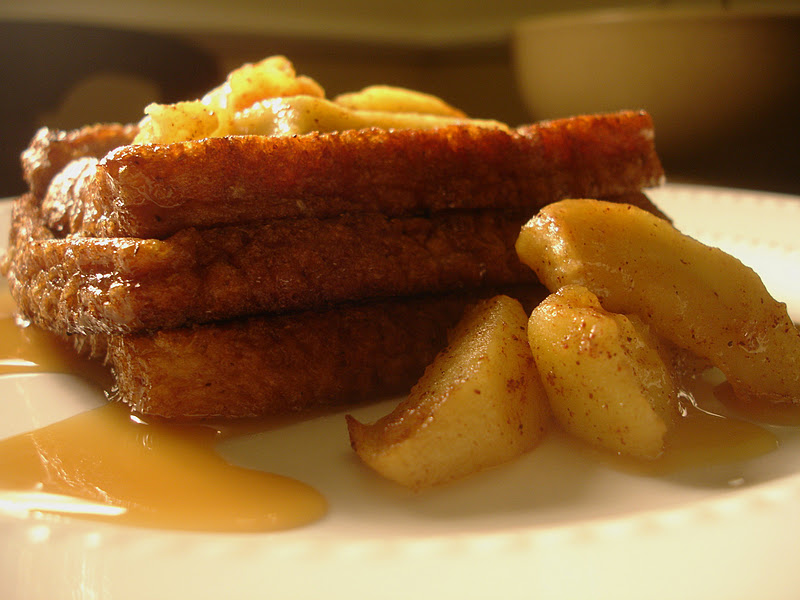 When it comes to cooking (and eating), seasonal dishes are among my favorites. There's just something special about being able to cook with ingredients that aren't readily available year-round. Especially in the fall, when there are so many season-centric dishes that just don't feel right being cooked or eaten during other seasons. Like green bean casserole or pumpkin cookies in the month of May. They just don't taste quite the same as having them during the fall months.
So for every season, I keep an arsenal of recipes that reflect the season and that, for the most part, use seasonal ingredients. A typical fall day in my kitchen consists of chocolate chip pumpkin pancakes for breakfast, a cranberry-filled camembert grilled cheese paired with cream of squash soup for lunch, some kind of stew for dinner, and a pumpkin (or apple) pie a la mode for desert. (I'm salivating as I type this. Looks like I'm going to be making some grilled cheeses and stews this weekend)! I LOVE tasting fall. So I want to share with you one of my favorite fall recipes for brunch. The  ingredients aren't seasonal per se, but they all scream "Fall."
It's super-easy to make and super tasty. You can even prepare overnight and just pop it into the oven the next day. One of my go-to brunch dishes, here's how you make Cinnamon Apple French Toast Pudding.
Here's what you'll need:
6 medium apples
2 tablespoons unsalted butter, plus more for the baking dish
½ cup packed light brown sugar
1 ½ teaspoons ground cinnamon
½ teaspoon ground nutmeg
8 slices of Texas toast (thick slices of sliced bread, white works best)
8 large eggs
½ cup granulated sugar
3 ½ cups whole milk
1 tablespoon pure vanilla extract
Here's what to do:
Heat the oven to 350 degrees.
Core and cut the apples into 1/4-inch thick slices. You can choose your favorite apples. Personally, I like to use an assortment so there are some variations in flavor.
Cut butter into small cubes and heat in a sauté pan over medium heat until it starts to foam.
Add apples to the butter and cook them until tender – about 10 minutes. Turn off the heat and stir in the brown sugar, cinnamon and nutmeg. (If you're big into fall flavors, you can add more cinnamon to the apples). Set them aside.
Lightly toast the bread in the oven and cut in half so that you get two triangles from each slice.
Butter a baking dish. (A 9 x13 works best, but for presentation purposes, I like to use my oval and round Corningware baking dishes (which are smaller in width, but have more depth). If you choose to use a dish that's not a 9×13, see the modification section below).
Arrange the bread in two rows, overlapping the edges.
Beat the eggs in a medium bowl and then whisk in the sugar, milk and vanilla to form the custard.
Ladle the custard over the bread, making sure that all surface areas have been saturated with custard.
Spoon the apples over the top and distribute evenly. (If you're preparing this the night before, you can cover the dish at this point and store in the refrigerator until you're ready to bake the next morning).
Place the baking dish into the oven (uncovered) and bake for 50 minutes, or until set. The custard shouldn't jiggle when you shake the pan.
Once set, it will puff up and brown slightly on the surface. Remove from the oven and let it rest for 10 minutes before serving. Serve warm.
*Modification: If you use a circular-type baking dish that's smaller than 9×13, and has got more depth than width, you're going to have to split the mixture in half and bake in two separate dishes. Also, because the eggs will rise, if your dish is filled to the brim with the custard, it will overflow. So, split into two dishes and only fill each dish ¾ full with custard.
I would love to hear how yours turns out! Leave me a comment and let me know!
Happy cooking!