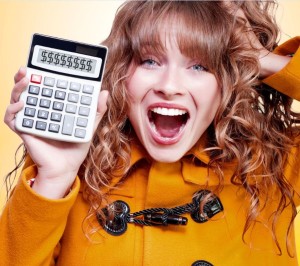 Whether you're saving for a vacation, trying to create a college account for your child, or in serious debt, having a budget is the first step in taking control of your finances. Even if you're convinced that your change jar is swiftly growing or you know you're money conscious and remember your coupons at the grocery store, creating, maintaining, and sticking to a reasonable budget can make a huge difference in the way you spend (and save!) your money.
Accountability & Tracking Your Spending
So, you always pay your bills on time and you're doing a great job of not spending more than your income. Awesome! The problem? You may still be fairly unaware of where and how you're spending your money.  This is where your budget comes in! Websites like Mint.com sync with your bank accounts and credit cards and then break down your spending for you into pie graphs and easy-to-read charts. How much did you spend this week or month on beauty? Entertainment? Groceries? Clothing? The answers may surprise you (I spent more money on work clothes than groceries this month?!) and they will also keep you accountable for your purchases. Apps like Mint let you set a limit on spending areas  ($30 every two weeks for treats/coffee, $100 every two weeks for groceries, etc.) and, when you go over that limit, you receive an email and a notification.
An excel spreadsheet or hand-drawn chart are other organized ways to view your expenses…so long as you think you'll diligently keep track of them!
Decide Where to Cut
Now that you know what your spending looks like, it's easier to decide where to cut back. If you see that most of your money goes towards eating out, cut some funding to your weekly or monthly dining funds, add a little bit of it to your groceries, and plan to bring your lunch to work an extra two days a week. If a lot of your "extra" cash is going to treats and pick-me-ups for yourself during a hectic work week, consider setting aside a portion of that money for buying a sweet treat or small gift for a friend or family member each month—your day will probably be brightened more by their reaction than whatever you read in the magazine you snagged on your lunch break.
Being accountable for your spending allows you to start setting reasonable goals and parameters. There's no guilt attached to following spending guidelines you conscientiously created for yourself.
Plan Your Savings
It's easy to go years without setting aside any money. Whether you're saving for a vacation or creating an emergency fund for the inevitable day that the washing machine breaks, having savings is a good idea. A new app called Glass Jar combines the old school coin jar savings with modern technology. Enter your pay day, your bills, birthdays, and anything else that you'd put on a calendar. Use the repeat settings so you can enter everything once (You pay one credit card on the seventh, your insurance is every two months, etc.) and it will repeat it for you. It only takes a few minutes to enter the information and the money you're spending for each. After setup, you'll be able to see months or years into your financial future—when you'll have certain bills paid off, when you'll have x amount of dollars saved, and so forth—with easy-to-read charts and graphics.
An actual glass jar works, too. If you're looking to fill more than the jar, try not spending any one dollar bills you receive as change and instead putting them into envelopes to be deposited into your savings accounts. To save even more, pick three months of the year to set aside all of your five or ten dollar bills. The most important thing is to set reasonable goals…and then stick to them.
Use Your Bank & Other Resources
These days, most banks have extremely handy websites that include spending tracking and budgeting options. Every time you log into your account, you'll be reminded of your financial goals and patterns. We shared about apps like Mint and Glass Jar, but there are hundreds of other budgeting apps out there, too. Search and find what works best for you so that you can stick to your financial plan.
You created a good plan, now all you have to do is follow through. And, hey, if you "mess up" and overspend or dip into your savings, it's a lot like falling off a bike. Brush yourself off and get back on again.