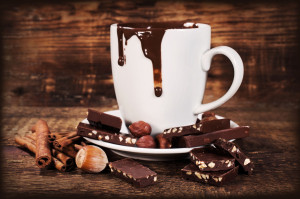 If there is ever an excuse to have a second helping of dessert, we usually will find a way. Which is why we love the trend of delicious, dessert inspire alcoholic beverages popping up on bar menus all over the country. Yes, its not a new thing, but we're still excited about it none the less.
We've had our fair share of chocolate martinis, but there are many ways to take this classic drink and make it even more fun.
Ready to drool?
1) Red Velvet Cupcake Martini – This is a mixture of Frangelico, vodka and creme de cacao. It sounds yummy and we love the bright red color.
2) Mississippi Mud Spiked Shot – This recipe seems too good to be true! The mixture of ice cream, and bourbon, and coffee, and of course the toasted marshmallow, well, we're salivating now so we'll have to talk to you later.
3) Chocolate Brownie Martini – Yummy! A brownie in a glass sounds pretty perfect to me. We like to think of this as the updated, and wonderfully delicious sibling to the chocolate martini.
4) Key Lime Pie Shooter – The Florida girl in us just loves the idea of a key lime pie shot. We'd add a rim of graham cracker crumbs to take it one step further.
5) Birthday Cake Shooter – These are beyond adorable, and we love the addition of the sprinkles around the edge of the shot glass. You could also use this recipe to make a delicious martini, or drink it on the rocks!
Have you tasted any of these dessert flavored beverages? What have been your favorite? Share some recipes with us in the comments!