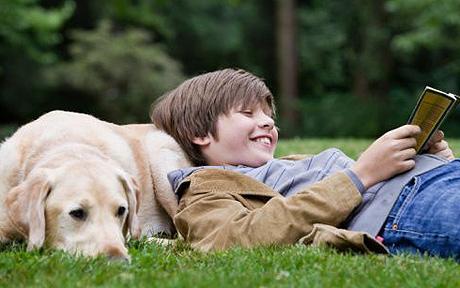 Is anything more relaxing and wonderful than curling up with a  great dog and a good book? From mischevious canine capers for little ones to laugh over to more mature themes of  connection and companionship for advanced readers, these five dog tales are easy reads, full of vivid description and emotion– they're also a few of my personal favorites. Which dog books are closest to your heart?
Call of the Wild by Jack London:  Carl Sandburg once said, "The Call of the Wild is the greatest dog story ever written and is at the same time a study of one of a study of one of the most curious and profound motives that play hide-and-seek in the human soul." London shares the adventures of an unusual dog, Buck, who is part St. Bernard, part Scotch shepherd, that is ripped from his domesticated life and transported to the Klondike, which the author himself experienced firsthand when he tried panning for gold in the region.  Buck braves the rigors of being a sled dog and competing to survive in the harsh climate, and eventually becomes the leader of a wolf pack. This book has never been out of print during the over 100 years from its first publication.
Old Yeller by Fred Gipson is a Newbery Honor book about a boy and his dog in the Texas hill country during the 1860s. When the ugly yellow dog shows up one night and steals some meat, he's nearly killed. Instead, 14-year-old  Travis and Old Yeller become best friends. Old Yeller is a good companion and a valuable hero that even saves a boy from a bear.  But when Yeller saves Travis' mother from a sick wolf that attacks her, and Travis is faced with the hardest task of his young life.
Marley & Me: Life and Love With the World's Worst Dog by John Grogan is a true account of the newspaper columnist's well-loved Labrador retriever that he and his wife raised, er tolerated, as they started their family. Marley is hilariously naughty and exasperating, Grogan is perpetually hapless and reluctant to give up on the hulking sweetheart. Following the entire timeline of this dog's life from rambunctious furball to elderly companion is as heartbreaking as you might imagine it could be.
Ribsy by Beverly Cleary: In Cleary's beloved Ramona book series, Henry Huggins is the mischief maker's best friend. Ribsy is Henry's mangy mutt, who, like Ramona, has an uncanny knack for getting in trouble.  Henry's dad promises to take him on a long-awaited fishing trip, only if he can manage to keep Ribsy out of trouble for one month. Ramona Quimby books were a favorite of mine and my sister's when we were in elementary school, I have the best memories of reading them aloud to her when she was still too little to read.
Pretzel by Margret Rey is an adorable picture book for dachshund lovers and little children, by the creators of Curious George. When Pretzel becomes the longest dachshund in all the world, he wins blue ribbons at all the dog shows, but he can't seem to win the affection of Greta, a lovely little girl dachshund who lives down the street. One day when she needs to be rescued,  the only dog who can save her is very, very long, and she finally recognizes the hero that Pretzel was all along. — Casandra Armour