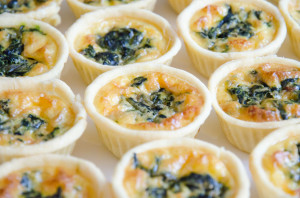 When you're hosting a dinner party, or maybe even going so far as to cater your own wedding, baby shower, or other major life event, it's important to offer your guests appetizers or small bite hors d'oeuvres to begin the affair. Hungry guests are angry guests, and no one likes that.
But you also don't want to spend too much time preparing them, or you may exhaust yourself before the main course is even served, so we wanted to offer up some great, easy to make small bites for your menu.
We've got fancy options, easy options, and some old favorites. These are especially perfect if you're planning on hosting a little get-together this coming New Year's Eve. Enjoy!
1) Brie – Leek Tartlets – These are adorable, super easy to make, and will wow your guests. Cheese and onion, a little bit of nutmeg, our mouth is watering just thinking about this. Perhaps a little sprinkle of fresh parsley on top would be a nice addition to this already awesome recipe.
2) Bacon Wrapped Dates – This sweet and salty combo never fails. While some may say the bacon craze is over, we still think your guests will enjoy this satisfying combo to start the party. And if they don't, well, at least you tried.
3) Smoked Salmon Mousse on Cucumber – This recipe will make you look like a gourmet chef, but is really all made in the food processor. It would be a lovely beginning of an at home brunch, or used later in the evening at a dinner party. If you want to make the mousse look as pretty as it does in the picture, invest in a frosting tip kit and you'll be all set!
4) Mushroom and Goat Cheese Crostini – We adore anything with goat cheese on it, and have found that the combination of warm goat cheese with mushroom is a winner every time. And who doesn't love a crostini appetizer?