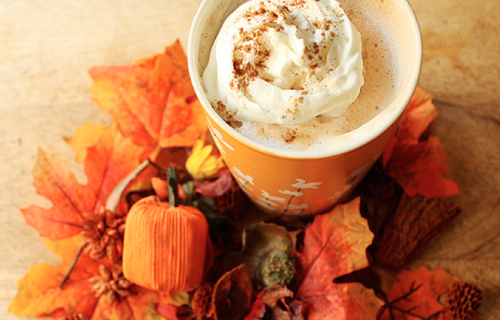 Much to the excitement of Pumpkin Spiced Latte enthusiasts, Starbucks brought back its rock star of lattes early this year. If these sweet and spicy caffeinated treats have you heading out for coffee more often than normal, we've got just the recipe for you. You'll save a little extra money sipping on your home brewed Fall-is-here concoction… and no one will be around to see or judge how much whip cream you do or don't dollop on top. Another perk? Our recipe actually includes real pumpkin, unlike the Starbucks version.
The recipe calls for a shot of espresso. If you don't have an espresso maker at home you can brew a cup of double-strength coffee or buy instant espresso. Choice of milk is up to you as well — whole milk adds richness, but skim, 2%, almond, or soy milk will do, too.
Ingredients:
1 tbsp pure pumpkin purée
1 tbsp sugar
1/8 tsp pumpkin pie spice (plus a little extra for garnish!)
A few drops vanilla extract
Fresh ground black pepper
3/4 cup whole milk
3 tbsp sweetened whipped cream
a pinch of cinnamon
1 to 2 shots of espresso
Directions:
Combine pumpkin purée with pumpkin pie spice, vanilla extract, ground pepper, and sugar in a small pot over medium heat. Ground pepper will add extra spiciness, but can be skipped. Cook and stir until the pumpkin begins to sizzle and spices are fragrant (1 to 2 minutes). Gradually whisk in milk until it combines. Let the mixture cook until steam begins to rise off the top of the milk and bubbles form around the sides of the pot (about 2 more minutes). Remove from heat.
Brew an espresso shot (or two) into a mug. Add milk mixture over top. Top with whipped cream and sprinkled cinnamon if desired. If you're sharing, double ingredients to make lattes for two. Don't forget to enjoy, preferably after a day of jumping around in yellow and red leaves.