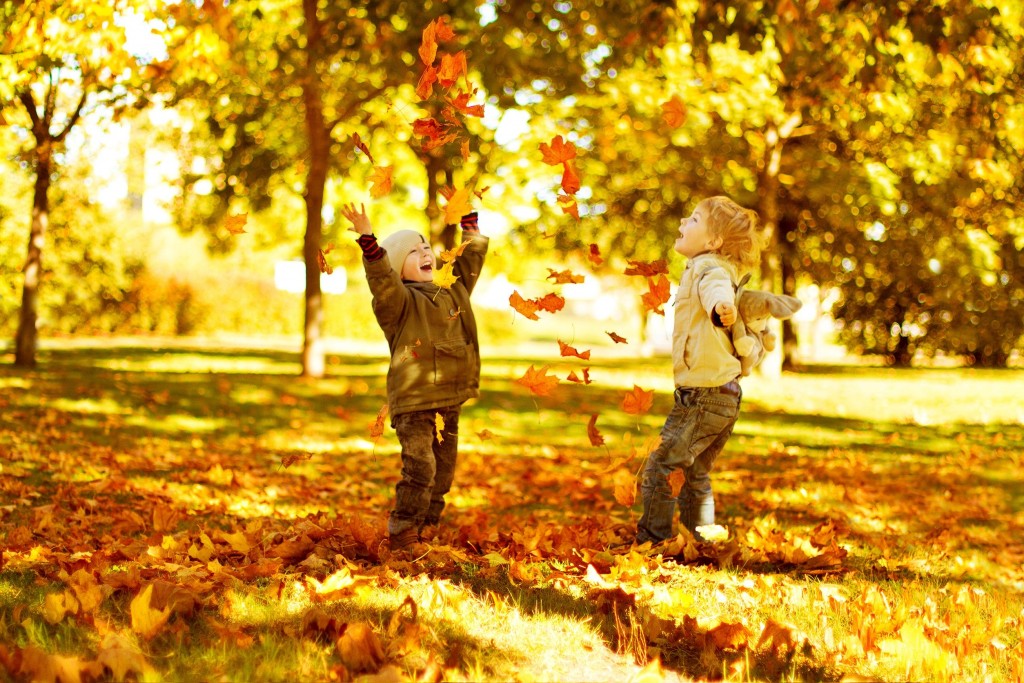 Every year, when October rolls around, I think of the F-word. It seems that the infiltration of all things orange happened as quickly as I tore off the month of September from my calendar. Suddenly, everything pumpkin is everywhere. And doesn't it feel odd seeing Christmas decorations alongside Halloween costumes at Costco in October? It really confuses the celebratory child within me.
But that's Fall for you. That's right – Fall, which F-word did you think I'm referring to? And I love it. After a long summer of sunny, warm days, I'm ready for change.  I always look forward to this time when leaves turn beautiful shades of yellow, orange and red (like the DVD cover of "When Harry Met Sally"– swoon!), I love the bundle up weather that encourages just a little more cuddling, a mug of warm cider in hand as you take in the crisp, chilly air on an evening stroll – I'm giddy just thinking about it. I welcome cooler days, the prospect that Halloween, Thanksgiving and Christmas (my favorite holidays) will soon be upon us, OTK boots (hooray!), and of course, pumpkin spice lattes. And as green starts giving way to shades of gold and amber, as pumpkins and gourds start making appearances at grocery stores, and spooky wreaths are hung on doors, people seemingly become a little nicer in the Fall. Perhaps it's the impending holidays (or the impending holiday bonuses) that put an extra pep in everyone's step. Whatever it is, folks definitely seem abuzz with a level of excitement that's absent the rest of the year.
I don't have any bonuses coming, but I'm beyond excited that Fall is upon us once again (even though it certainly doesn't feel like it here in SoCal these days, with temps in the high 80s and all). So I want to share with you some of the things I love doing during my favorite season.
Visit a pumpkin patch
No Fall is complete without a visit to your local pumpkin patch. Adults can enjoy the nostalgia while little ones will love romping through pumpkins of all shapes and sizes.

Go apple picking at an orchard
It's a fun and unique activity that's only available in the Fall. And you get to keep your pickings for all those Fall recipes.
Bake a pumpkin or apple pie
Who needs scented candles? Nothing says "Fall" quite like a house filled with the aroma of a freshly-baked pie.
Host a pumpkin carving party
Whether its BYOB, or BYOP(umpkin), gather up a group for some carving fun. Be the host(ess) of the season by providing carving tools, stencils, and plenty of small bites for your guests. And don't forget tealights! (Colored LED's add a fun twist to the traditional golden glow inside a pumpkin). Make it a contest and watch your guests really turn up their creativity!

Set up a photoshoot for holiday cards
Fall foliage provide beautiful backdrops for holiday card photos. If you're a multi-tasker, schedule your photoshoot at a pumpkin patch or an apple orchard. This way you can enjoy the venue's activities post-photoshoot.

Leaf stomping
There's no better place to let out your inner child than in a pile of freshly-raked crunchy leaves. Adults and little ones alike will delight in this Fall classic. (This would make for a great photoshoot for those holiday cards as well)!
Corn maze
Because sometimes getting lost from our everyday hustle-bustle can be good for the soul.

Collect pine cones
Kiddos will love "hunting" for the cones and turning them into Fall crafts with you. It makes for a great family afternoon. Or, place the cones directly in a decorative bowl for a simple, yet elegant, season-appropriate centerpiece.
Make cider
Warm up cold hands by wrapping them around a warm mug of apple-y sweetness. I'm a big fan of mulled cider. Buy a bottle of pre-made apple cider and heat it in a pot along with a few slices of orange and lemon, some cinnamon, cloves, allspice, and sugar (to taste). Voila! Quick, simple, and tasty cider. (You can add a touch of brandy for a kick).
Haunted parks
Not for the faint of heart. Truth be told, this is probably my least favorite thing to do during the Fall because I'm a big scaredy-cat. But I know it's a Fall favorite among many of my friends so I'm adding it to the list because really, what's October without a little spook?
Hopefully I've inspired you to get moving and shaking this Fall season. If you're a Falloholic like me, you probably have ideas of your own to add to this list. I would love to hear them. Please share with us below!