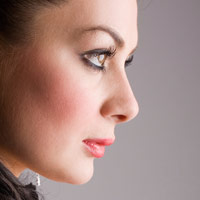 Fall makeup is taking a turn towards the colorful and yet, simultaneously, neutrals as well. You will not go wrong erring on the side of purple hues this season. The variety of purples out there can flatter all skin tones, and people are using it in all ways.
Eyes:
A smokey eye can be created with shades of violet. This is actually one of my favorite looks. It's much more subtle than using black or harsher colors. You can find a duo or trio to layer, such as Jane Iredale Pure Pressed Eyeshadow Duo. I think Bare Minerals has some of the prettiest eye shadows around right now, so try this Plush Purple or for something bolder, Nars Daphne eyeshadow.
Dual-toned smokey eyes is a fun change on the old classic too.
The barely-there look was used a lot on the runway too. Try nude colors, light browns, and dusty pinks to add some color yet still look natural.
Face:
Matte is in as well as natural beauty. Keep your skin subtle yet flawless with Bare Minerals foundation- it looks natural and usually stays matte.
Penciled-in and strong eyebrows- try using gel to keep your eyebrows in place and looking put-together.
Lips:
Try a plum or purple to stay in tune with this fall. If you want something more subtle, try Fresh Sugar Plum lip treatment. Their treatment generally is absolutely amazing. The new color is perfect for fall yet subtle enough to wear everyday. You can't go wrong. Fresh Sugar Plum lip treatment will have you pining for one in each color in no time.
Fiery reds are still in style as well. This best way to manage this look without it coming off after a sip of water, is by using a lip stain rather than a lipstick, such as Tarte LipSurgance Natural Matte Lip Stain.
If you just want a plain lip-gloss if you're going for the neutral look, use Fresh Sugar lip treatment in Rose. It even has SPF 15.
-Whitney J. Manson