Spring has sprung! But with a welcome springtime return to a wide variety of fresh produce and increased organic options comes the need to keep things truly sustainable by making sure your farmers market haul doesn't end up in the trash. I rely on muffins to use up fruit that I want to rescue from potential waste. This easy duo of recipes turns overripe finds into wholesome snacks for you and nutritious treats for dog lovers to give their little loves.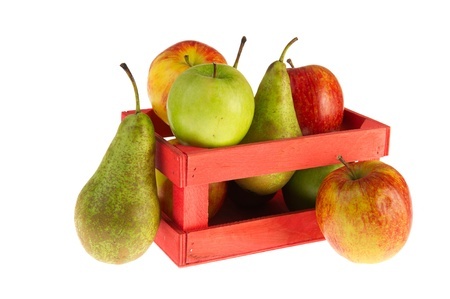 Vanilla Pear Muffins
Ingredients:
1 cup whole wheat flour
1/2 cup all-purpose flour
3/4 cup white sugar
1 1/2 teaspoons baking powder
1/2 teaspoon salt
1/2 cup low-fat vanilla yogurt
1/2 cup canola oil
1 egg
2 teaspoons vanilla extract
1 ripe pear – peeled, cored, and diced
1/2 cup chopped pecans
Directions [via AllRecipes.com]:
"Preheat oven to 450 degrees. Grease or line 12 muffin cups with paper liners. Whisk whole wheat flour, all-purpose flour, sugar, baking powder, and salt together in a bowl. Whisk yogurt, oil, egg, and vanilla extract together in a separate bowl until smooth. Stir yogurt mixture into flour mixture until batter is just mixed; fold in pear and pecans. Spoon batter into the prepared muffin cups. Place muffin tin in the preheated oven; reduce heat to 350. Bake until tops of muffins are browned and a toothpick inserted in the middle comes out clean, 20 to 25 minutes. Cool in the tin for 5 minutes before transferring to a wire rack to cool completely."
I used three ripe, Asian pears that needed used up ASAP, which just made the muffins chunkier and more moist. I nixed the pecans because I didn't have any on hand, but added a cup of organic oatmeal, one of my favorite ways to make muffin mixes heartier and more nutritious. Next time I'd love to try adding ground ginger or maybe topping them with candied ginger to give the recipe a bit more oomph. But for a healthy snack or breakfast on-the-go, I was really impressed with these simple little treats.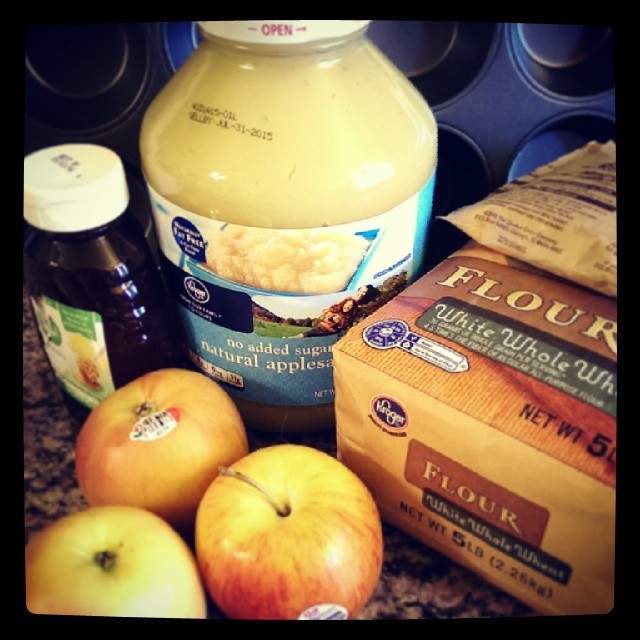 While you've got the oven warmed up and all of the baking stuff down from the high shelf (a true feat in my home, as I am a height-impared chef) whipping up a batch of pupcakes for your doggie is  snap since many of the same ingredients are applicable. For my furry friend's fourth birthday, I adapted this recipe from Cesar Milan's blog by adding oatmeal (again), a few spoonfuls of natural peanut butter, and instead of chips I used fresh apples because we had some that were closing in on their shelf life too.
There are two important things to note about this recipe. The first is that the measurements really make a huge quantity of muffins. I was able to make one dozen, with a full Ziplock baggie of batter still left over. Unless you have a lot of friends with their own canine families, you may want to learn from my mistake and cut the recipe by half or more. (And I don't have suggestions for that, because fractions are whack.) As well, you'll want to use and distribute the finished muffins as quickly as possible, or pop extras in the freezer: using organic ingredients isn't conducive to a long shelf life, and my crew and I were disappointed to see our pupcakes had morphed into furry friends too after just a few days, sprouting tons of gnarly mold.
These muffins for my little mutt turned out wonderful though, and it was a low investment birthday treat that I was glad to give her without worrying about feeding her junky hidden ingredients. I stole a bite and they tasted a lot like our muffins, just less sweet. It was refreshing to feel comfortable tasting her food without feeling grossed out. Enjoy!
 Apple Crunch Pupcakes
Ingredients:
2 ¾ cups water
¼ cup applesauce (unsweetened)
2 tbsp honey
1/8 tbsp vanilla extract
1 medium egg
4 cups whole wheat flour
1 cup dried apple chips (unsweetened)
1 tbsp baking powder
Directions:
Preheat oven to 350 degrees. Mix water, applesauce, honey, egg, and vanilla together in a bowl. Add remaining ingredients and mix until well blended. Pour into lightly greased muffin pans. Bake 1 ¼ hours.       — Casandra Armour
Top image credit: ivonnewierink / 123RF Stock Photo