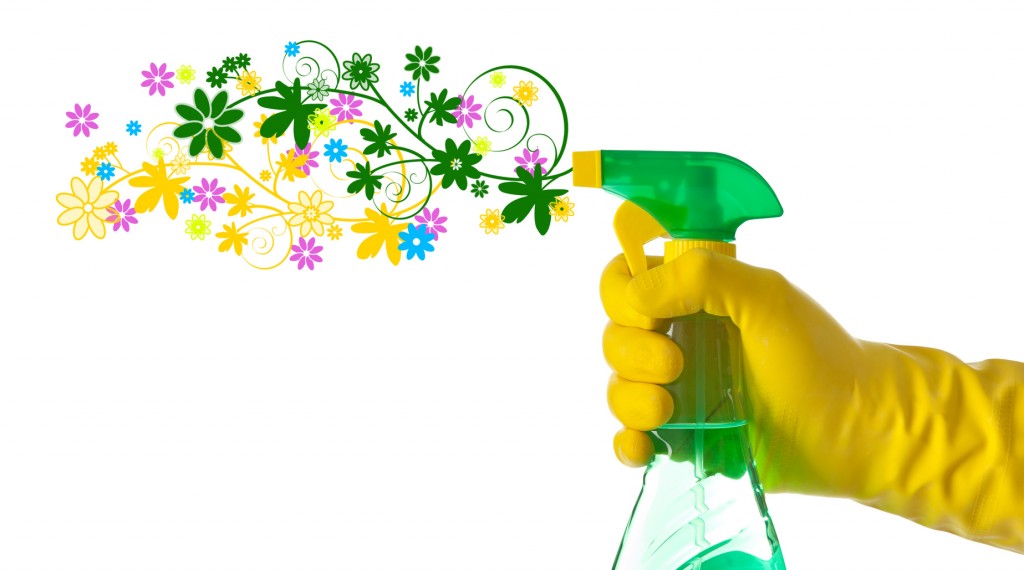 Newsflash to everyone still hibernating: although it might not feel like it, it's been a week since spring has officially sprung. And you know what that means, right? Two words: Spring. Cleaning. They might make you want to run for the hills – trust us, we almost did – but cleaning doesn't have to be a chore. We've got some tips to help you banish those dust bunnies without losing your head in the process.
Left to right, top to bottom
Sometimes, you'll be so caught up in the mood to clean that you'll just tackle whatever you see right in front of you. So you'll dust the table, then wash the blinds, only to notice that there's dust on the table again. The trick is to start from the top, so that tables and floors are the last things you clean, and to move from left to right (or any direction, really  — the point is to work in one general direction). You'll save energy and time.
Vinegar is your best friend
Hate the smell of vinegar? Well, too bad — you'd better get used to it, since white vinegar is one of nature's cleaning solvents. Tie it in a baggie over your shower head for a spotless residue-free finish in the morning, wipe delicate plumbing fixtures with white vinegar and a cloth for a gentle sparkle, or mix it with equal parts water in a trigger bottle for spotless windows. Vinegar's uses are endless!
Toothbrushes clean more than teeth
The compact design and bristle-strength of toothbrushes make them perfect for cleaning those hard-to-reach places like in between fixtures, and for tackling problem areas like grout-encrusted tiles.
Make a cleaning caddy 
Having all your cleaning supplies in one location that you can conveniently cart around with you will keep you from running back and forth looking for the right cleaning agent or cloth.
When life gives you lemons
The acid in lemon juice is perfect for breaking up unsightly rust stains. For most stains, ten minutes of soaking in lemon juice will be enough to do away with them. For tougher ones, attack them with a hard-bristle brush and power-wash them away with water after.