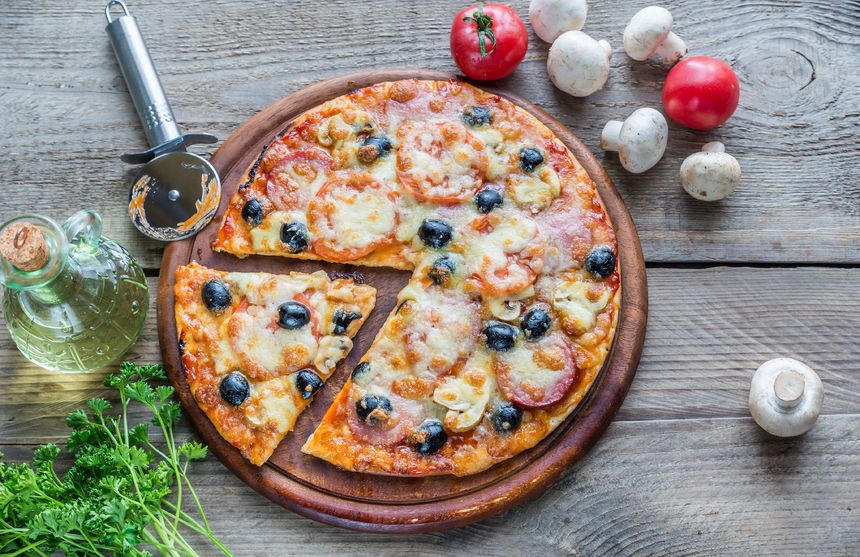 There's not a person alive who doesn't like pizza. If someone tells you that she doesn't, be very wary of becoming her friend, because she is a bold-faced liar. Pizza is amazing — no other food combines all the major food groups in such a fun and compact way, and no other food is just as tasty, if not more, cold as it is hot. Alas, not all pizza is created equal. The traditional pizza delivery joints of our youth like Dominos, Pizza Hut, and Papa John's just don't seem to be serving the same quality of pizza anymore, and ordering "gourmet" pizza at a sit-down restaurant can cost you a pretty pepperoni. What's a pizza fiend to do? Here at Weekly Sauce, we like to think that anything they can do, we can do better, so we've scoured the web for the best vegetarian homemade pizza recipes this side of Italy. From savory to sweet and everything in between, we've got you covered.
Dough
A slice of pizza is only as good as the dough that holds it all together. While there's nothing like a slice of thick, gooey-with-cheesy-deliciousness deep-dish pizza, we do like to take our waistlines into consideration, so the recipe for dough we're providing here is for a thinner crust. If you want to make it even healthier, take The Kitchn's advice and consider swapping out the all-purpose white flour for whole wheat flower or spelt flour. It'll add a nice dimension of flavor to your crust, not to mention some protein. This crust works well with all of the pizza recipes below (trust us, we know from experience.)
Shiitake and Chanterelle Mushrooms with Goat Cheese Pizza — Epicurious
If you're a mushroom fanatic like we are, this pizza is a must-try. The smokiness of the mushrooms and the sharpness of the goat cheese is a combination your taste buds won't soon forget.
Pear and Gorgonzola Cheese Pizza — Allrecipes
Another unique combination of tastes and textures, the sweetness of the pears and the smooth sharp creaminess of the gorgonzola is delicious and surprisingly light. A perfect appetizer pizza.
Classic Margherita Pizza — The Kitchn
The three most powerful words in the English language aren't "I love you" — they're "basil, tomato, mozzarella." Margherita pizzas are a staple of any serious pizza aficionados repertoire. With a bit of garlic for some bite, this pizza will definitely have you feeling drunk in the best way possible.
Fig-Prosciutto with Arugula Pizza — Food Network
There's something about the combination of sweetness and saltiness that gets our taste buds singing. This recipe packs a punch when it comes to both. Tossing some caramelized onions into the mix adds another dimension of flavor that really helps both the fig and prosciutto and shine. Fig is notoriously sweet, though, so consider halving the amount of figs or fig jam that the recipe calls for if that's just not your thing.
Quattro Formaggi (Four Cheese) Pizza — Delia Online
We don't need to explain the gift from God that is cheese. This pizza has four cheeses to indulge in: mozzarella, gorgonzola picante, parmigiano reggiano, and ricotta. Pro tip: this pizza is served best the minute the cheese starts to turn golden and bubble.