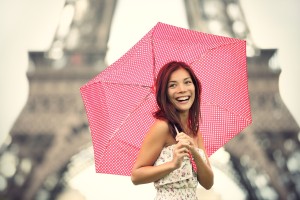 Travelers to Europe seem like they fall into two categories: the co-ed backpacker and the wealthy Mediterranean cruiser. Most of us fall somewhere in between—already past the gap year stage of life and not quite rich or retired. That doesn't mean you can't still have a European adventure that fits your lifestyle and means.
Here are five tips for traveling through Europe with more comfort than the average 18-year-old and less frills and expenses than a stay at a Ritz Carlton:
1.     Sublet your place
One way you're probably more situated in life than the average high school graduate is that you have an apartment (or a condo, or a house) that you pay money to live in. When you leave the country for any period of time, a week or several months, it may be worth it to sublet or rent your place. If you live in a bigger city where summer interns or businesspeople travel, it might be ideal to rent your place to someone who needs a short-term arrangement. If you live somewhere a bit smaller, try listening a temporary rental on craigslist. If you have a friend or family member willing to handle the cleaning and key exchange, consider listing your property on AirBNB.
You won't be losing any money paying for a space you're not using and that money will instead go right into your travel fund!
2.     Participate in a work exchange
Websites like WWOOF (World Wide Opportunities on Organic Farms) and Help Exchange connect you with hosts in countries all over the world. In exchange for an agreed on amount and type of work, your shelter and meals are provided for you. Sometimes these meals are home-cooked, other times you are given an agreed upon amount of money to do your own shopping and cooking. Your accommodations can range from a large private bedroom to a trailer or tent next to the main house. You'll have the opportunity to live with, and like, a local.
Help exchanges usually accept more than one person, so, if you're traveling with family or friends you can share in the experience. If you're worried about safety, work exchange websites usually have reviews of hosts by others who have stayed with them and there is a verification process when they sign up.
3.     Consider booking a hostel
I use the word "consider" because some hostels are just…too young. If a body painting party or a 24-hour bar just under your room isn't quite your speed, be sure you look for a hostel that is family-friendly. Most hostels will let you know by their name or on their website what kind of travelers they accommodate. Hostel World has search parameters like cost, ratings, and property type to help you compare and book.
Hostels are nearly always less expensive than hotels and give you some of that intimacy of staying somewhere where you'll likely interact, and have the assistance, of locals and/or the owner. Another perk is that many hostels have 24-hour reception so you can check in on your own schedule. Staying at a hostel is also a great way to meet other travelers as they usually have a community space.
4.     Use AirBNB
Wanting a bit more privacy? AirBNB is another great alternative for a place to rest your head. Your stay comes with the extra comfort of feeling like you're in your very own faraway home. You can rent a private bedroom or an entire place for much cheaper than a hotel.
AirBNB hosts are often willing to pick you up from your plane, train, or bus at no extra cost, too. They're usually very happy to share the hidden gems of their city or town with you as well and many include a complimentary breakfast.
5.     Travel with discount airlines
Europe has great discount airlines like EasyJet and Ryanair that can get you quickly from one country to the next. With flights starting as low as twenty Euros, it's worth looking to see whether you can go from one area of Europe to another for less than it would cost to take a train or bus. They're pretty no-nonsense with no extra frills, but they'll get you across great distances safely and in no time. (Careful that you prepay for checked bags, though, as that's a way they charge you extra at the airport!)
Happy adventures and travels! — Amanda Oliver