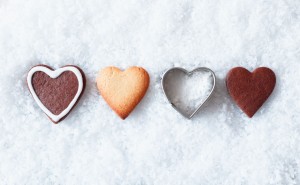 When you are as addicted to sweets as I am, you have to find recipes that are a bit healthier than eating a double chocolate chip fudge cookie every now and again. In my humble opinion, there is never a truly "healthy" cookie (at least none that taste as great as the real stuff) there are definitely options to cut the bad stuff by a bit.
As I always do, I like to find recipes that look good, and share my discoveries with you.  Here are some that I think will be mighty tasty hot out of the oven.
1) Quinoa Chocolate Chunk Cookies – I'm calling these kind of healthy because they are made with Quinoa! They also use coconut oil, no butter, and whole wheat flour. Yum!
2) Omega 3 Cookies – This recipe includes dark chocolate, flax seeds, walnuts, and more delicious ingredients that will make your body happy. Plus, cookies. So there's that.
3) Protein Super Cookies – In the past, I've used black beans to make chocolate brownies, so the idea of using lentils in a cookie recipe isn't shocking to me. I'm curious if these taste as good as they look, and if they do, I'd like to eat at least 3 of them for breakfast. Thanks!
4) Peanut Butter Protein Cookies – I've seen quite a few baking recipes these days that incorporate protein powder directly into their ingredients list. I've not tried it yet but I'm certainly interested in what the final product tastes like. This recipe seems like a good place to start.
5) Double Chocolate Chip – Avocado in a cookie? Yup! This recipe went there. I've heard of this before, but again, have not personally taken the risk and gone for it! It's also sans white refined sugar or eggs, which is a huge plus.
What are your favorite healthy(ish) cookie recipes?