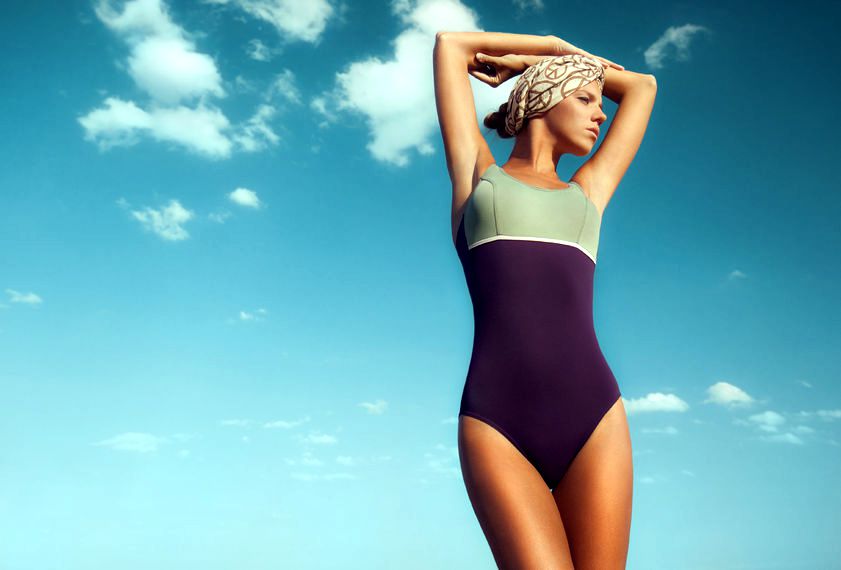 Summer is right around the corner – which means that swimsuit season is about to kick into high gear. Buying a flattering swimsuit that will allow you to enjoy all that fun in the sun without worrying about how you look while doing it is daunting, almost as hard as finding the perfect bra. In fact, it might even be harder, since you're basically looking for lingerie that can be worn in public. If you're having trouble figuring out which bathing suit is the perfect one for your body type, have no fear – we've got you covered when it comes to summer gear.
Large breasts
If you're extra-blessed in the bosom department, you'll want to stay away from string bikinis, as they will not give you the support you need. Opt for tops that have underwire and cup sizes for support. Thicker bathing suit bands, as opposed to skimpy ones, will look the best.
Not-so-large breasts
If your breasts are on the smaller side, you can still find a flattering top. You should aim for something that has embellishments to add a little extra oomph to your chest, or a top with padding for extra cleavage.
Love handles
High-waisted bottoms are your best friend when you're not down for anyone else to show your love handles some lovin'. Make sure they come up past your belly-button for maximum flattering effects.
Too much tummy
Not being able to cover a tummy pouch can often be the deciding factor when it comes to "do" or "don't" at the pool. A one-piece with peplum or ruching across the mid-section can hide problem areas while staying stylish. Accentuating other parts of your body, like your bosom, can also draw attention away from your midsection.
Pear-shaped body
If you've got a body like a Coke bottle, you'll need to balance your proportions. A bottom with a skirt can work wonders.
Big booty
A big booty is nothing to be ashamed of, but it can make for an uncomfortable swimsuit experience (i.e. wedgies!). Don't skimp on the fabric, as ample coverage will only flatter your backside, not detract from it. Solid bottoms and printed tops are good combination to balance the proportions of your body.
Barely-there booty
Embellishments are once again your friends when it comes to a small bee-hind. They'll give the appearance of more junk than you actually have in your trunk. Showing skin is also a better bet than having lots of coverage. Skimpy can be your friend, in this case.
Pregnant
If you've got a little tag-along going with you to the beach, you'll want to give him or her some protection, too – sun stroke is definitely not good for mommy or baby. A two-piece tankini will cover your baby bump flatteringly while also giving your skin good coverage.
Cellulite and Body Scars
Not that we think you should feel like you should hide any part of your body, but if it's a question of personal comfort, there are definitely options out there for you. Tankinis, swimdresses, crop tops – there's bound to be something that will give you the coverage you're looking for.