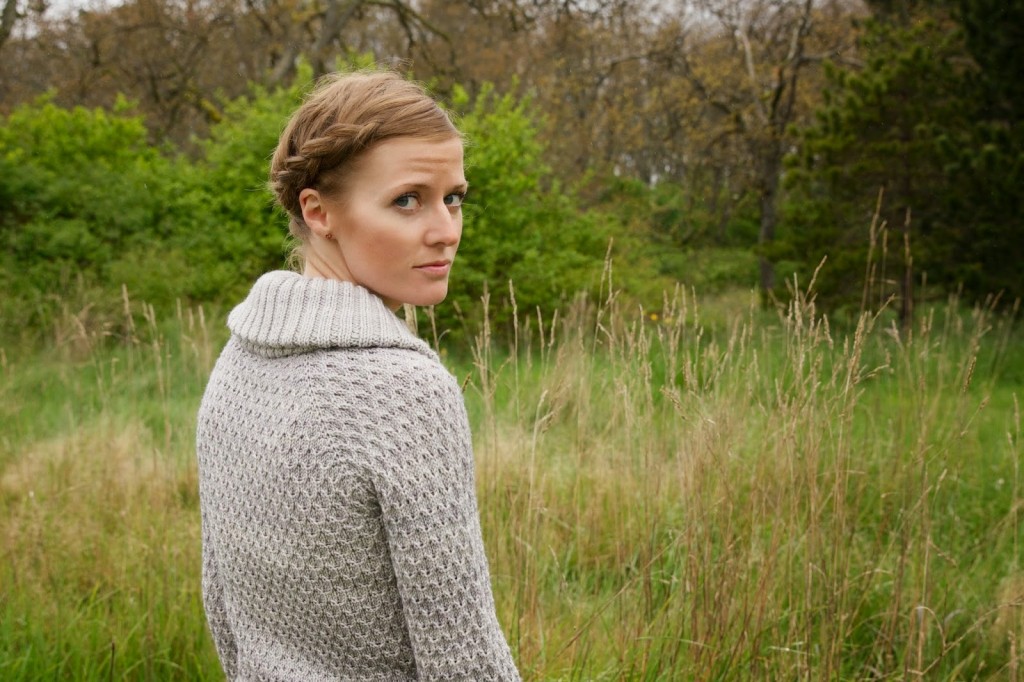 Jane Richmond is a popular knitwear designer. She is also a mother and a businesswoman making a living doing what she loves. With the unlikely combination of her two favorites subjects, math and art, Jane has been creating and publishing knitting patterns since 2008. She is known for designing straightforward, minimalist, and easy-to-follow patterns…with gorgeous results. A quick look at her Etsy shop and items like her Autumn Hat, Climb Socks, or Inland Cardigan make it obvious why Jane is so popular in the knitting world.
I sat down with Jane to ask her a few questions about what it's like to run her own business, Jane Richmond Designs, as well as balance everything else in her life on Vancouver Island, British Columbia. Her thoughtful responses and helpful tips for getting started will leave you feeling inspired. Whether you've never knit before or are looking for new projects to start, Jane has some of the best patterns for both newbie and pro knitters. Here's more:
You learned to knit at age 5 and then relearned through books in your late teens. What drew you to knitting?
I can't quite remember but I think it may have been when my cousin Rosemary became pregnant. I wanted to knit something for the baby but hadn't knit since I was taught, and I'd certainly never followed a pattern before. I picked out an Aran sweater pattern, which is a complicated pattern, and then had to learn the skills to follow it. Back then the internet wasn't really prevalent–I used books from the library and how-to booklets from the craft store to get past the basics.
When did you realize or decide you could make this a full-time living? Did you develop a business model or just dive in?
I began designing rather unintentionally. What started as a gentle push from friends to share what I was creating, grew into a fulfilling part time job. I was fortunate to be well received by a warm and encouraging community of knitters online, Ravelry.com which also served as a platform for pattern sales. It's like Facebook, but for knitters. The site has a fully integrated market place.
When my day job began to interfere with how productive and profitable I could be in my design work, I decided to leave and run the business full time. The decision was terrifying, but it was clear, I needed to stop being cautious and take a leap of faith.
You have two knitting books, Island and Journey (a collaboration with Shannon Cook), what did you enjoy most about the process of putting your patterns and designs into this format?
I think my favorite part of working on the books is the opportunity to work with a team. For my individual patterns I work alone and do almost everything myself– the knitting, layout, photography, publishing, promotion, etc.
The books are a joint venture between my business partner, Shannon Cook, and I. Together we founded Marian Rae Publications as a means of self publishing the type of knitting books that inspire us.
The process involves a team of people. We work with a photographer and model, technical editors, copy editors, and proofreaders. Countless hours are spent pouring over the valuable feedback from large testing groups. I enjoy the process of working together to create something we can all be proud of–it's very rewarding.
 You have a minimalist approach to knitwear with designs that are classic and simple. If someone is just learning to knit, do you think they could follow one of your patterns?
Most definitely. My patterns are quite often used by yarn stores to teach classes to beginner knitters. Many of my designs, although not intentionally geared towards beginners, are ideal for those just learning because of their simplicity. I try to design patterns that are unfussy and easy to follow.    
Living on Vancouver Island has obviously inspired your work. What's your one of your favorite thing to do on the island? Have you always lived on the island?
I was born on the Island but have lived all over the place, from Melbourne, Australia to Seoul, Korea. I returned to the Island in 2001.
One of my favorite things to do on the Island is hike. There are so many wonderful trails and amazing views. Our climate allows for hiking year round –I love the way the forest changes from season to season. The trails seem to change from week to week in the spring, the bare trees fill in making the pathways more narrow and the forest gets really lush and green.
 What roles have blogging and social media had in your success?
I owe so much of my success to the reach and exposure of social media because my business relies heavily on online traffic and sales.
However, I prefer to use my blog as a creative outlet and means of self expression. I started it when I purchased my first "real" camera, a DSLR. My posts are mostly just thoughts, photographs, and other things I'm passionate about, like gardening and cooking. I haven't monetized my blog because it allows me the freedom to write when and what I want, keeping it personal and more like a journal than a marketing tool. That is my preference.
Many people wish they could leave a full-time 9 to 5 job to pursue something they love. What have been some ups and downs for you in the process? What were you doing before this became your career?
My previous career was in the automotive industry. When I left the field I worked odd jobs mostly, not really knowing what I wanted to pursue next. During the time I was juggling both self employment and a day job, I found it more and more difficult to go to work. Designing was so fulfilling in ways that no other job had been–a big part of me wanted to devote my full attention to it, but I knew it had to be a gradual transition while I built up my portfolio.
Now that I get to do something I love, full time, it's hard to imagine doing anything else.
 What advice would you give to anyone trying to accomplish something similar?
One valuable lesson I've learned from working with Shannon, is to always take yourself, your work, and your business seriously. Do it right and always put your most professional foot forward, from the very beginning. If you take yourself seriously, others will too, which contributes to your sense of worth and the pride you take in your work. The old saying applies here, fake it until you make it!
How do you balance work, play, and raising your 6-year-old daughter?
Finding balance is incredibly challenging when you are self employed. It often feels like I'm always working. But I'm learning as I go and I'm getting better at allowing myself time off.
Another way I've found balance is keeping regular work hours. I work Monday thru Friday, from 9 to 5. Well, 9 to 3 now that my daughter is in school. People would often assume that because I work from home that meant my daughter was home with me. I began my business while on maternity leave, back then I was able to work around her schedule but as she grew I knew that separating work and parenting was important to me. Daycare allowed me to work uninterrupted during the day so that we could enjoy quality family time in the evenings. It meant not having to stay up to all hours of the night trying to fit a full work day in after bed time.
 Do you have a favorite item that you have created?
One of my favorites is the Grace cardigan from my first book ISLAND. At the time it was the most challenging thing I'd ever designed. It was a lot of work to develop the pattern and I was really happy with the way it turned out. I regularly discover new projects from knitters that have made their own Grace cardigans and it makes me happy all over again.
Any tips for beginner knitters?
Dive in! There are so many more resources than when I was learning–YouTube is full of video tutorials if you get stuck. If you want to reach out to other knitters for help or find a knitting group in your community go to Ravelry.com.
What's next/coming up?
I love working on the books, they are incredibly rewarding, I hope to continue to publish in that format. I try to continue to release individual patterns as my schedule permits, I recently released a FREE
 tube sock pattern for kids
! And I always have some secret project going on in the background.
You can visit Jane's blog, website, and Facebook page.