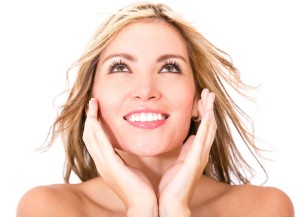 Microdermabrasion—the application of tiny rough grains to buff away the top layer of skin—can cost anywhere from $50-500 per professional treatment. The positive effects of microdermabrasion are many, including smoother, softer skin, lessening of visible imperfections like fine lines and wrinkles, and making way for moisturizers to better penetrate the skin. The high cost is not so pleasant.
Thankfully, there are natural, DIY treatments and low-cost store-bought treatments that will have a similar, if not the same, results as a spa treatment.
Note: All treatments should be done no more than twice a week or once a week for sensitive skin. Splashing warm water on your face before beginning can help open your pores for the treatment. Always (always!) use a gentle upward circular motion. If you apply too roughly, you can really irritate your skin.
DIY:
Easy Peasy
Add together three parts baking soda and one part water. Mix until you have created a paste. Apply in a circular motion for a few minutes. Rinse. (You can add a squeeze of fresh lemon to this one as well!)
The Bare Necessities
Mix 1 tablespoon baking soda with ½ tablespoon raw honey and add a drop of lavender or tea tree oil. Apply in a (gentle!) circular motion for a few minutes. Rinse.
Coconut Oil of Course
Mix ½ cup coconut oil with ½ cup baking soda and 4 drops of essential oils like lavender, geranium, or clary sage. Apply in a gentle circular motion for a few minutes. Rinse.
Sweet as Honey for Your Whole Body
Mix ½ cup brown sugar, ½ tablespoon lemon juice, 1 tablespoon honey, and 1 tablespoon olive oil in a dish. Use in the shower for your whole body. Rinse after five minutes.
Buy it for less:
Derma E Microdermabrasion Scrub $29.95
This stuff smells AMAZING. Like fresh-squeezed lemons and sea salt. The formula uses a blend of Dead Sea salt and volcanic sand to buff. Derma E products are also all 100% vegan, cruelty-free, paraben-free, mineral oil-free, lanolin-free, gluten-free, and GMO-free. It will cost you $29.95 a 2oz. pop.
Zenmed Renewing MicroDermabrasion Complex $48.00
This one has rave reviews! A soap-free, mineral-heavy clay that does not leave any residue or greasiness. After use, your skin is prepped and primed for moisturizer and makeup application. Dull skin immediately looks more awake and smooth after first usage, with full-benefits appearing after 2-3 weeks of use. Comes in a 4 oz. size.
Mary Kay Two-step Microdermabrasion Set $60.00 for set
This award-winning two-step formula is hypoallergenic and oil and scent free. Always a plus for someone with sensitive skin! Step 1 exfoliates and Step 2 replenishes your skin with moisture and anti-oxidants after all that buffing. Promises to reduce the appearance of pores and create a radiant-looking glow.
Here's to glowing, gorgeous skin for less! — Amanda Oliver