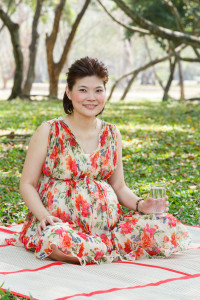 Memorial Day BBQs and picnics are all about catching up with friends, eating great food, and occasionally enjoying that festive libation-but what's a woman to do if she's pregnant or nursing and can't have any of that spiked punch? The solution: Mocktails for Mommies!
Use one of these two recipes from Bump Water, that not only keep mom in on the fun, but also provide 100% of the recommended daily amounts of Vitamin A, Vitamin B6, Vitamin B12, Vitamin D, Vitamin E, Calcium, Niacin, Biotin, Zinc, Magnesium that are found in prenatal vitamins.
Bottoms up mommies-to-be. Soon you'll be busy wiping them!
Red White and Babies Mocktail

6 oz Bump Water Sparkling Cranberry Ginger
6 oz Gingerale
Ice
Mom-tini

6 oz Bump Water Sparkling Lemonade
6 oz pineapple juice
Lemon twist garnish
Ice