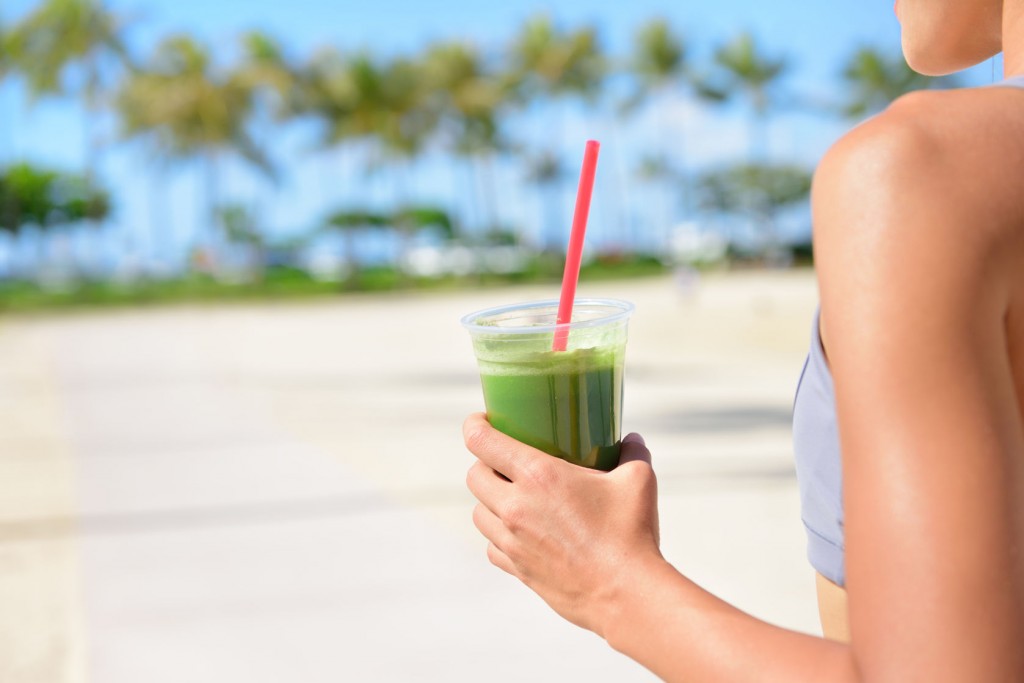 I've always wanted to try a cleanse. Chalk it up to my inner masochist or morbid curiosity – or maybe I'm just a sucker for a good old-fashioned, misery-inducing, soul-sucking challenge. Whatever the reason, about a month ago I finally took the plunge and began researching various cleanse programs online. I knew I needed more than just guidelines and suggestions. I work best within structure and knew if I were to stick with a cleanse, I'd need one that laid out exactly what to do, what to "eat," and when. A friend of mine who is also a personal trainer suggested a company called Purium, and pointed me to their 10-Day Transformation. Essentially, the program is ten days of pure self-deprivation designed to reset your metabolism, help you kick bad food cravings and habits, and stimulate your body to shed pounds and inches. I liked the intended goals, the highly-structured nature, and the fact that they provide nearly everything you need for the entire ten days, aside from a few items. Cost-wise, it came out to about $30 a day, which seemed like a small price to pay for the opportunity to put my body, mind, and soul to the test.
I officially started the cleanse on February 22nd, after spending a lovely weekend gathering the few items I needed, reading the information pamphlets that accompanied my cleanse products cover-to-cover, and gorging myself on any and every crumb, scrap, and morsel I could find – despite the suggestions in said informational pamphlets strongly advising against doing this.
The Structure
The entire program is completely structured, with each day involving the same steps. This made the cleanse very easy and allowed it to just become routine after the first couple days. Purium provided a hefty helping of shake mix (which lasts beyond the ten days), as well as amino acid, electrolyte, and cleansing supplements. Not to mention the delicious tart cherry liquid that's also lasting past the allotted cleanse period. I also received a mixing bottle for the shakes, which was a nice addition.
The only items I had to purchase were from a list of "Flex Foods." These were foods I got to eat every four hours and included apple, avocado, broccoli, cauliflower, cucumber, spinach, or kale. Out of those, I pretty much only like apples, cucumbers, and avocados, so I chose those as my Flex Foods and stocked up on them. From the moment I woke up, there was something cleanse-related to do every two hours. Here's how a cleanse day went.
Wake up and pretty much immediately drink 18 oz. of water, take a handful of amino acid supplements and one electrolyte supplement. I also got to eat one Flex Food – I made an apple my breakfast, a cucumber my lunch, and I saved an avocado (my favorite) for dinner. This step was repeated every four hours, three times a day.
Two hours after waking up I made a shake – this included two scoops of the mix plus 16-18 oz. of either water or a Flex Beverage – Flex Beverages are either unsweetened almond milk or unsweetened coconut milk. I always used a Flex Beverage in my shake – it improved the taste and made the drink a bit more filling. I then took two cleanser supplements. This step was also repeated every four hours, three times a day.
The last step of the day, two hours after my last shake and generally about an hour before I went to bed, I mixed two tablespoons of the tart cherry liquid with 6-8 oz. of a Flex Beverage. This was my favorite part of the day – it tasted amazing and made for a soothing bedtime treat.
Ok, now that I've covered the schedule, let's get down to the nitty-gritty. Total candor – it was hard. It wasn't nearly a physically difficult as I expected, but the mental torment of not eating whatever and whenever I wanted would take its toll throughout the day. But I stuck with it and never cheated, despite many weak moments when I would have sold my dog to a circus for a Big Mac. The guidebooks really stress drinking a lot of water on top of the 18 oz. already scheduled in every four hours. So, I did as I was told and guzzled, guzzled, and guzzled some more. Apart from having to run to the loo every twenty minutes, it really helped stave off my hunger and expedite the "flushing out" process.
Thankfully, I began noticing little changes pretty quickly which helped to steel me as the days wore on and the hole in my stomach grew. Once I hit the halfway mark, I was working on autopilot – and nothing was going to derail me. By the time it was all said and done, I lost eight pounds and 10.5 inches overall. However, while these results were definitely celebratory-worthy, the biggest change came in my mindset. I'd kicked my long-standing caffeine addiction and also found myself no longer craving sweets or junk food. Against all odds, it had reset my appetite.
Even leading up to the end of the cleanse, I formulated a plan to maintain the results – I wasn't looking forward to plunging my face into a cake or cheeseburger; rather, I was excited to transfer many of the changes in my diet and mindset to my normal, non-cleanse life.
So, if you're looking to jumpstart a change in your lifestyle and diet, I couldn't recommend this cleanse program more. It will, undoubtedly, change you mind, body, and soul if you let it. I finished the ten days feeling rejuvenated, motivated, healthier, and pretty darn proud of and confident in my level of determination.