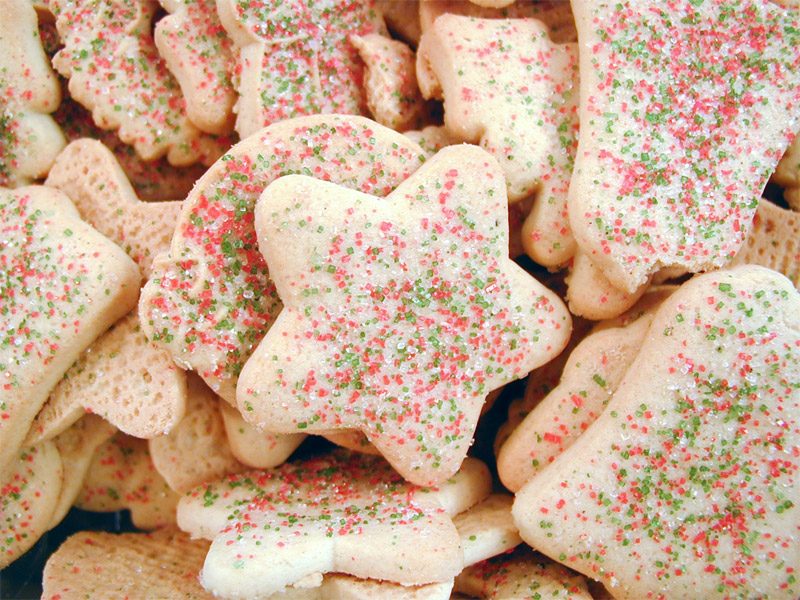 Bogie and Bacall. Anthony and Cleopatra. Bert and Ernie. Perfect matches are everywhere. But there is no more perfect match at the holidays than Christmas and cookies. Christmas cookies are a holiday tradition, not just in my house but across the globe. Weather getting too nippy? A cup of hot cocoa and a chocolate chip cookie fresh from the oven will warm you up in no time. What's a better holiday activity for spending time at home with your family and friends than baking and decorating Christmas-themed cookies? And who has an affinity — an addiction, the more gossip-prone of us might say — to cookies? The King of Christmas, Santa-freaking-Claus himself. You really can't have Christmas without cookies. It's one of Nature's more esoteric laws.
Growing up, one cookie recipe signaled the holidays more than any other for me. My best friend's mom made them, and she made them by the bushel. My own mother, an amazing cook but not really a baker, would make these cookies because they were always delicious, and as simple as simple could be to make. When I became a mom, the recipe was shared with me, and now, I share it with you. They are a fun family activity, because once the dough is made, there is lots of fun to be had rolling them into little balls, putting a thumbprint in the center, and deciding what each sugary confection should be garnished with . I like to set up a little station for the kids, with everything from glazed cherries to red and green sprinkles to chocolate chips and pecans. Below is the recipe for what are arguably the best holiday butter cookies IN THE WORLD.
Ingredients
3/4 lb. unsalted butter, softened
1 cup sugar
1/4-tsp. salt
3 egg yolks
3 cups flour
1 tbs. vanilla
1/2 tsp. baking powder
Glazed cherries, colored sugar, chocolate chips, nuts or ingredient of choice to garnish
Directions
1. Preheat oven to 350°F.
2. In the bowl of a mixer, mix together butter, sugar and salt until pale yellow and fluffy. Add the egg yolks, one at a time. Add the flour and baking powder, 1 cup at a time. Add vanilla.
3. Flour your hands, and roll the "dough" into balls roughly the size and shape of golf balls. Place on Silpat non-stick baking pads or parchment-lined baking sheets. Flour your thumb, and push a thumbprint in the center of each ball. Fill with glazed cherry or any treat you choose.
4. Bake for 10 min., until slightly golden at edges. Transfer to cooling rack and let cool for 2-3 minutes before serving.
Enjoy! I hope your holidays are extra-sweet this year!