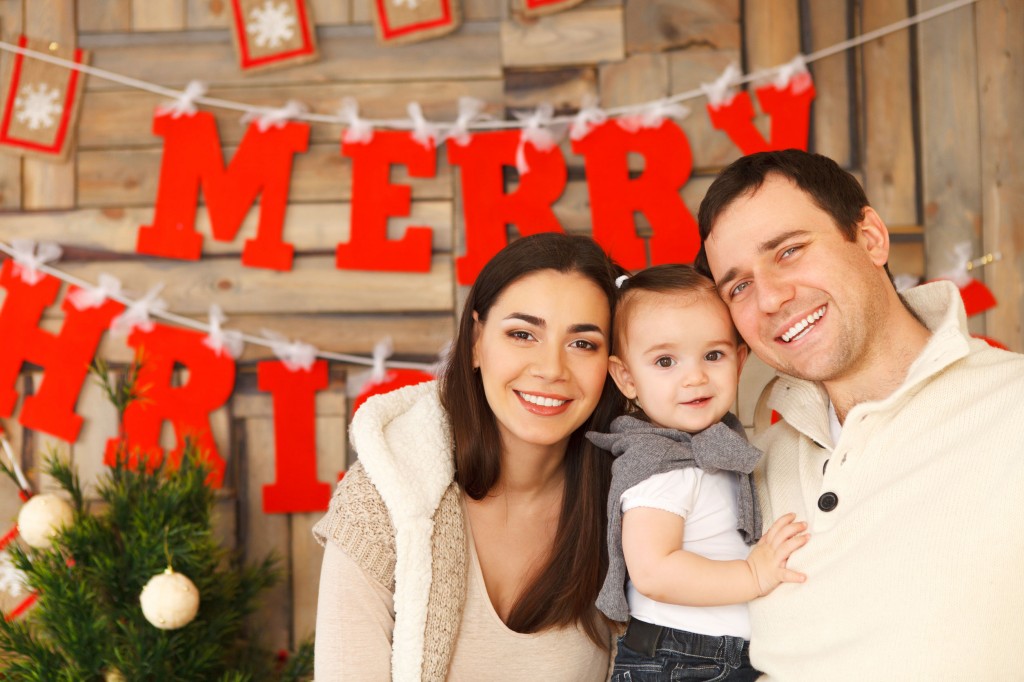 So, holiday season has officially begun. And even though November is barely over, I'm already expecting to receive our first holiday card shortly. You know, that holiday card from that one Stepford-housewife-for-a-friend that always seems to get her cards out the day after Thanksgiving. Hatin' in good fun aside (love her, but really?), receiving and sending personalized holiday cards is one of my favorite parts of the holiday season. It's so neat to see our family and friends from near and far, and watch their families grow year after year.
If you're the holiday-card type of person, or the type who wants to be never have been one because those pretty sheets of cardstock can end up costing an arm and a leg, read on. While there are endless bells, whistles, glitter and foil you can add to your customized holiday card (while paying a hefty price for them), you don't need to break the bank in order to send out a nice, customized holiday card.
Here's how. First off, you have to take a (family) photo. If you have the budget for it, hire a good photographer. After all, these photos will last a lifetime and be passed on for generations to come. The alternative is to find a photography student that would be willing to take a few photos for you for a small fee. And of course, the most wallet-friendly way is to set up a date with our trusty friend, the tripod.
Once you have your photo, decide on the type of card you prefer. Think material, shape and size. Personally, I prefer cardstock over photo paper, but that's usually a little pricier. Photo paper is usually the most economical way to go. Ordering cards in odd shapes or with cut-outs like scalloped edges or rounded corners will also result in higher costs so stick with a simple rectangular or square shape if you're looking to keep costs low. Next, you need to decide how many images you want to add to your card. The more images you add, the more surface area you'll need which will increase cost. For example, for a single image card, you could order a flat 5×7 card with only one-sided printing. For multiple images, you may have to go for a double, or even tri-fold, card which of course becomes a little more costly.
The bulk of costs usually stem from all the (super fun) customization you can add to your card. Like embossing, foil details, shimmer, cut outs, special colors — the list is endless. The more customization, the higher the cost will usually be. If you're looking to keep costs low, skip all this. You can get a perfectly good-looking holiday card by sticking with just the basics – the card, an image, perhaps some text and the design template provided.
Lastly, finding the right company to produce your order is key. Almost all retailers that offer personalized, customized cards run some kind of promotional deal, especially during the holiday season. Whether it's a certain percentage off your entire order, free shipping, or half off the price of cards, you're bound to score a deal of some sort. The trick is to weed out the best deals. My suggestion is to first find the company that carries the style of cards you like, or the quality of cards you expect, and then see what deals work for you. If you're not a paper snob, then you'll have many, many options to pick from. Retailers like Costco offer a great deal on their holiday cards – especially the ones printed on photo paper. I think they even throw in freebie personalized calendars with your order of cards. Oh, their turnaround is fast, too. (A huge bonus for those who are always running a little behind in getting their cards out).
So there you have it. You too can send out a nice customized holiday card this year without having to open up a new credit card account. Good luck!