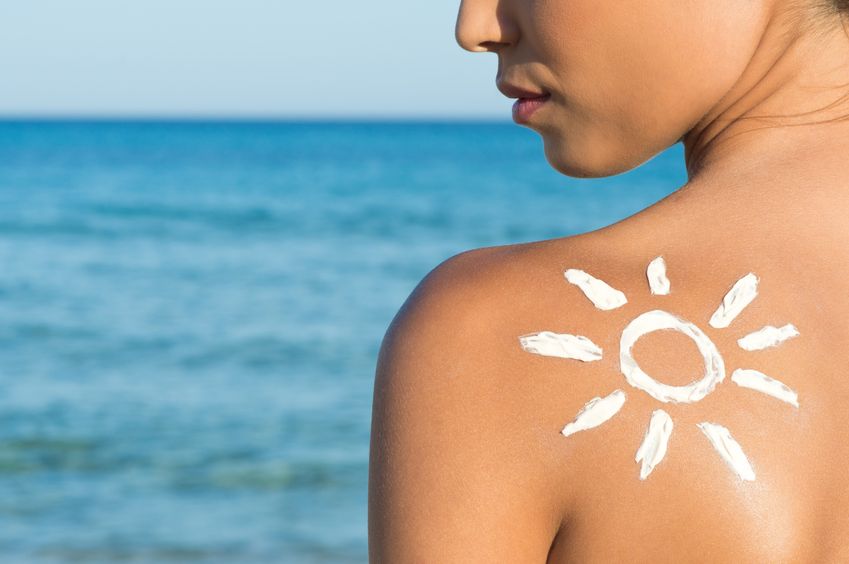 In Southern California we're known for many things – among them our weather, our beaches, and of course, our tans. Some of us are lucky in the sense that it doesn't take a lot for our skin to turn a beautiful golden hue, giving us that enviable sun-kissed look that so many others pay money and risk their lives to acquire. When we're young, we don't think too much about the negatives that are associated with sunbathing. In fact, we don't think about much of anything because we're so caught up in the present and our only concern is how we look… until one day we're in our forties and all of a sudden we're trying to reverse all of that sun damage we caused in our younger, more blissfully ignorant days.
Being of Filipino descent, I've never had to worry about being tan. Just put me in the sun for twenty minutes and I'm easily two shades darker. Back in my high school days, I used to spend hours at the beach, soaking up the sun and proudly refusing all of my fair-skinned friends' offers of sunscreen. In my mind, I simply didn't need it. I thought that SPF was only for people who were super-pale and burned easily. But as I neared my late twenties and saw my dad defeat skin cancer, that was when it hit me: I'm also of Caucasian descent. And just because I tan easily doesn't mean that I'm invincible when it comes to skin cancer.
According to skincancer.org, skin cancer is the most common form of skin cancer in the United States, and a single indoor UV tanning session (yes, I'm guilty of doing this on occasion when I want to "touch up" my base color for summer) increases a person's risk of developing squamous cell carcinoma by 67 percent. The lengthy list of scary statistics goes on, and I stopped reading for fear of freaking myself out, but I basically came to the realization that I needed to stop it with my careless tanning and start practicing some safe sun.
My first plan of action was to stop indoor tanning. Even though I only go once or twice a month to keep my tan on, it adds up over time: am I really willing to forgo looking good and being healthy in the future all for the sake of looking tan in the present moment? I don't think so. Since we've been experiencing a rash of sunshine in So Cal lately, I looked into some safer alternatives for those who want to maintain some form of color, and there are a lot of simple and easy ways to look sun-kissed without the kiss of death either.
The Faux Tan
Fake it till you make it, right? In this case, fake it all the time. I know a lot of people are worried about looking orange or like a spotted leopard when it comes to getting your tan straight out of the bottle, but there are several ways to ensure that you get a natural color without compromising the quality of your fake tan, either. For one, exfoliation is key. When you apply fake tanner to your skin, certain areas are thicker than others and peel sooner, which results in an uneven overall look. By giving your skin a thorough cleansing and exfoliation treatment with some sort of body scrub or brush, you're getting rid of those flaky and uneven layers, which will in turn leave you with a smoother surface that allows for a more even application.
Also, when looking for a sun tanning product, many dermatologists recommend looking for a self-tanner that contains erythrulose or raspberry sugar for a more natural look. Spray tans are also another route that many choose to satisfy their tanning needs, but there has been some speculation over whether the chemicals that one ingests during the spray tan process are harmful to the body. But if given the choice between a spray tan or a tanning bed, definitely go for the spray tan – just learn how to hold your breath.
Safe Sun
If you absolutely insist on going into the sun, there are some preventative measures you can take. After all, being outside is one of the joys of life, and many people spend ample time outdoors without getting skin cancer. As it turns out, sunscreen is your new best friend. Most people, according to an article in US News, only apply half the amount of necessary sunscreen, which means that they're only getting half the protection. When shopping for sun protection, you'll want a sunscreen that has at least SPF 35 that protects from UVA and UVB rays, and make sure to apply it every few hours.
Products that contain titanium oxide and zinc oxide block the sun through reflection, while others absorb rays when they hit the skin. If you're looking to gain some color you'll want the latter, although it is slightly riskier. But if you manage your time in the sun wisely by only spending an hour or two in the direct sun and making sure that you don't go outdoors during the hottest and most intense parts of the day, you'll definitely be doing yourself a big favor. And you can also wear a hat to minimize sun exposure on the face, which is where the signs of aging show most prominently in the form of sunspots and wrinkles.
For those looking to get their daily dose of Vitamin D, you can still get it by consuming the right products or taking vitamin supplements. And if you're looking for an extra touch of color, there are many great bronzing lotions, gels and powders that you can apply when you're looking for an extra hint of sparkle and color.
The most important thing to keep in mind, though, is that being tan doesn't necessarily represent beauty. There are many fair-skinned beauties to be admired, and we want to look just as good (if not better) in our fifties than we did in our twenties.
Later, Cop-a-Tan.
---
By: Kamala Kirk