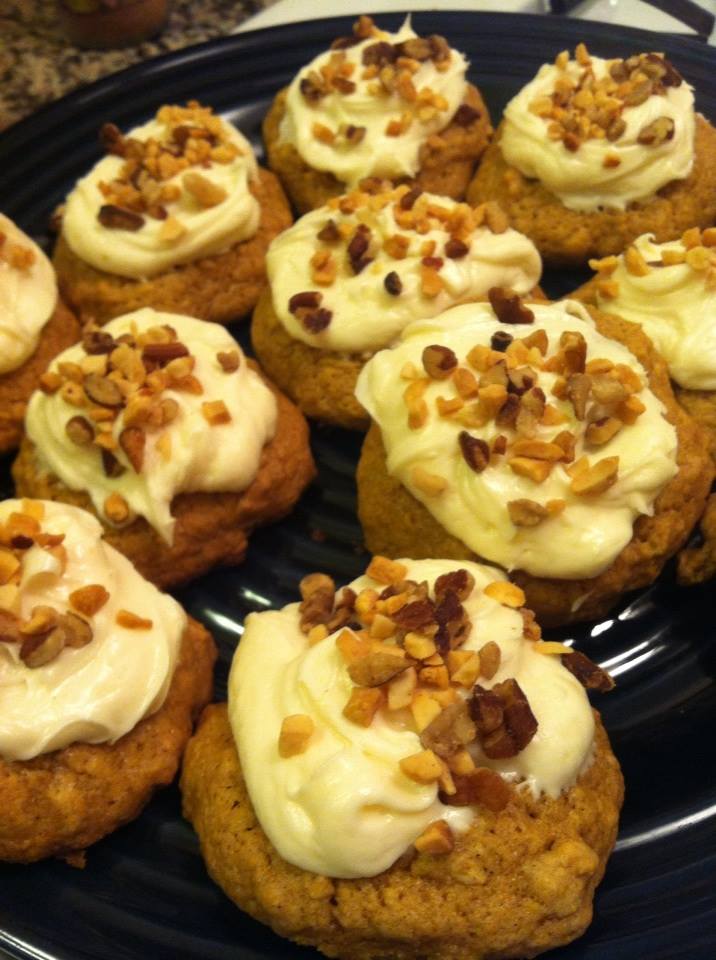 An easy way to indulge in the richest autumn flavors, these Pumpkin Oatmeal Cookies were a game night favorite at my place recently and could also serve as a great little dessert to pass around at holiday gatherings throughout November and December. But they're so good, you'll want to make a batch to leave at home too.
This original recipe from About.com is not frosted. I picked up a can of Duncan Hines Creamy Home-Style Frosting, which contains no high fructose corn syrup, to top them off. But if you'd rather go one-hundred-percent homemade, cream cheese frosting is pretty simple to put together and the recipe can be found here. I topped half of the batch with a mix of chopped pecans and peanuts, and sprinkled the other half with cinnamon, just to leave options.
A commenter on the original recipe left a great gluten-free variation that simply includes swapping out the flour for Bob Mill's gluten-free all-purpose flour and adding xantham gum as directed, while keeping all other ingredients and their measurements the same.
Ingredients:
2 cups all-purpose flour
1 cup quick cooking oats
1 teaspoon baking powder
1/2 teaspoon baking soda
1/2 teaspoon salt
1 1/2 teaspoons ground cinnamon
1/2 teaspoon ground allspice
1 cup (8 ounces) butter, softened
1 cup light brown sugar, packed
3/4 cup granulated sugar
1 large egg
1 teaspoon vanilla extract
1 cup canned solid pack pumpkin
1 cup raisins or cranberries
1 cup chopped pecans, walnuts, or hazelnuts
Preparation:
"Heat oven to 350°. Lightly grease baking sheets or line with silicone baking sheets.Combine the flour, oats, baking powder, soda, salt, and spices; set aside.In a mixing bowl with electric mixer, cream the butter and sugars until light and fluffy. Beat in the egg, vanilla, and pumpkin. Slowly beat in the dry ingredients until blended. Stir in raisins or cranberries and chopped nuts. Drop by teaspoonfuls onto the prepared baking sheets. Bake for 12 to 15 minutes, or until lightly browned around the edges and set. Cool for a few minutes then remove to a rack to cool completely. Makes about 4 dozen cookies."