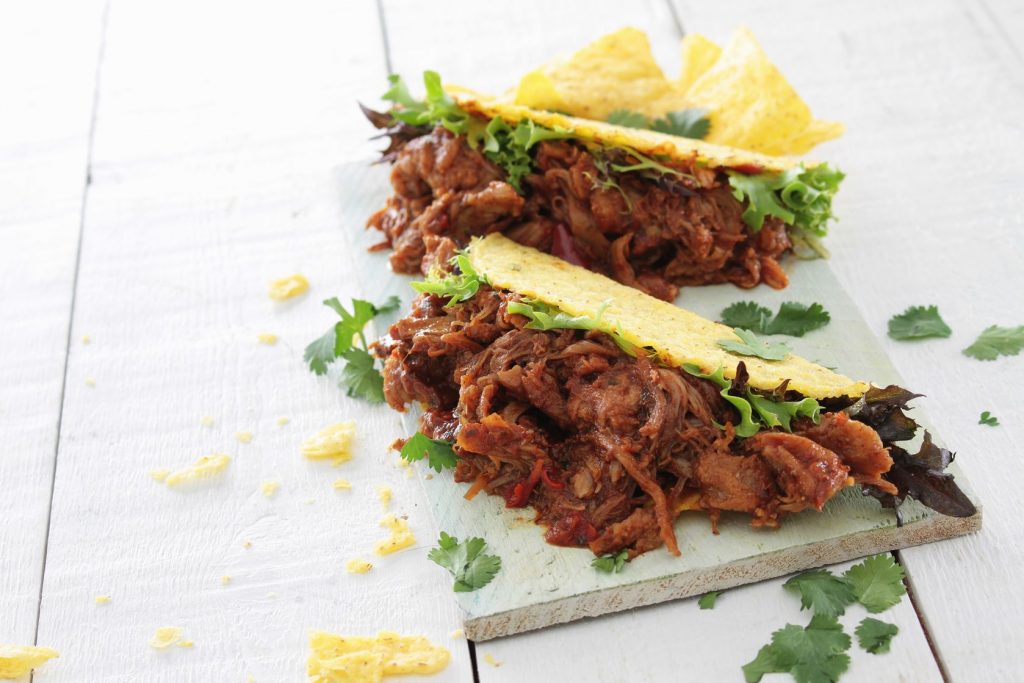 You know you're getting old when the arrival of a brand new slow-cooker sends you into a happy dance. My old one went kaput about six months ago, and rather than buying another straight away, I put it off -– telling myself I didn't really need it. It wasn't until I had no crockpot that I truly realized just how much I needed one. Once the giddy giggling subsided, it was time to decide how to christen my new bundle of delicious joy. I had my normal slow-cooker go-to recipes, but I thought I should try something different, go outside my comfort zone as a way to really welcome this new gem into the house. Because I'd been without one for six months, my head spun with ideas –- the choices are endless when it comes to slow cookers.
Let me preface this by saying, I rarely –- as in, never –- eat pork. It fills me with guilt, as pigs are just so darn cute, smart, and dog-like. However, I made an exception on this particular night, as Cuban-style pulled pork just sounded too amazing to pass up. Plus, it's one of those meals you let cook for many, many hours, and the thought of it simmering as I slept was too good to pass up. I mean, who can resist waking up in the morning to that aroma filling the house?
Here's the recipe:
Cuban-Style Pulled Pork
Ingredients
2 lbs pork shoulder or rump (I used shoulder)
1 large onion
4 cloves garlic
1/2 cup minced cilantro
4 oranges
4 lemons or limes
1 tbs oregano
salt and pepper to taste

Once I had all the onions, garlic, and cilantro chopped, I put them in the crockpot with the pork. I then squeezed the oranges and limes (or lemons) into the cooker, covered it, and stuck it in the fridge (just the glass container, in case that's not clear).

I left it in there to marinate for about 8 hours -– you could always do this overnight. The longer everything has to marinate, the better. That evening, I took it out of the fridge, put it in the cooking vessel, and prepared myself for a mouth-watering night. For the first hour it cooked on high. Then I switched it to low and let it cook for another 9 hours.

I can't even tell you what the apartment smelled like as all those juices simmered, and the onions and garlic cooked down. My original plan had been to make pulled pork tacos, so while I was at the store, I also picked up extras like sour cream, salsa, tortillas, and shredded cheese. They're all still sitting in the fridge untouched. After 9 hours simmering in the slow-cooker, all that meat needed was a willing mouth – no extras required.

So, if you have a hankering for pulled pork and are the proud owner of a slow-cooker, try out this little gem. I doubled the recipe, meaning, given the amount of pork I have left, I'm sure I'll be cracking open those taco fixings and chowing down on pork tacos for the next few days.