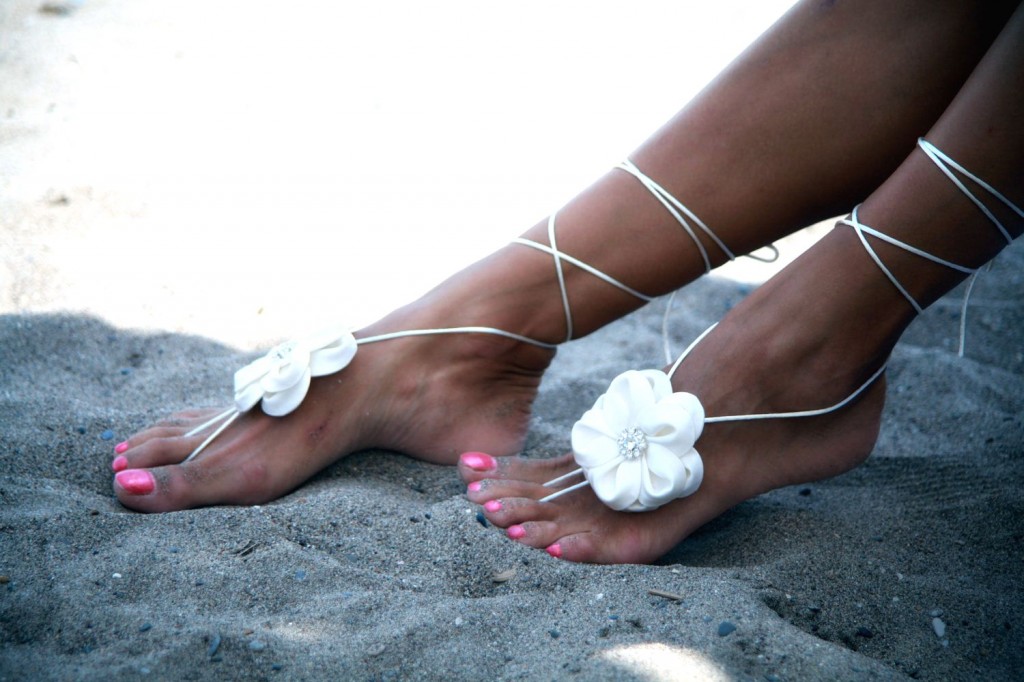 Part-time hippies and gypsies, here's your solution to walking barefoot at the beach or indie music festival, or whichever other destination you like to grace with your pretty feet. Enter barefoot "sandals," the dainty jewels and chain links that wrap around your ankle and top surface of your foot. You can wear them as is, but you run the risk of stepping on some not-so-desirable items (we don't recommend wearing these when you to take your puppy to the local dog park — gross!). What we recommend, instead, is that you wear them with a simple pair of flip flops that have one strand down the center of your foot. The jewelry will cover the flip flop, but you'll still have a sole to walk worry-free on sidewalks, grass, burning desert sand, etc. Here are two different ways to wear this trendy new take on summer footwear, with a bit of advice on how to keep those feet looking dainty and fresh while you rock your new sandals.
Crochet
Some talented souls over at Etsy have crafted exquisite pieces of crocheted lace. One version features a triangular section of white crochet with a small loop for your second toe, and a thin string to tie around your ankle. It has the equivalent sex appeal of wearing a barely-there, slinky dress. We're imagining you decked out in your best diaphanous goddess dress with a crown of flowers perched on your regal head while you float through your music festival with your feet on the clouds.
Chain link
Another version features thin gold chain links artfully draped on top of your foot. Simple is best: avoid too many embellishments, such as pearls, beads and gems. Stick to natural colors, such as white, off-white or beige. Black and other bright colors distract from the delicacy of the adornment. Since your chain-link sandal will be on the subtle and understated side, we're thinking you should take the Bohemian factor up a notch and wear a bright, loud multi-colored skirt and an off-the-shoulder ruffled crop top, while giving yourself those mascara wings you've secretly been dreaming of painting on but have been too shy to attempt. Do you, girl!
Maintain with a pedicure
The worst thing ever would be to have a beautiful pair of barefoot sandals — radiant jewels, delicate gossamer-fine chains — only to have the effect they would have destroyed by draping them over a pair of crusty-looking feet. You need to take care of those puppies! Especially since they take a beating all day. After soaking your feet in warm soapy water (go ahead and throw in some essential oil in the mix if you have it), gently scrub your heels and soles with a pumice stone to exfoliate dead skin cells. Don't scrub too hard, or it will irritate your skin and potentially create a blister, which would make walking barefoot a disaster and an exercise in pain. Dry your feet thoroughly and apply a dollop of shea butter or body lotion all over your them. You're going to want to give your nails a coat of fresh paint, and in any other case we would tell you to go all out, but for nail polish combined with a barefoot sandal, keep the attention on the jewelry, not your toes. Stick to classic colors, such as pale pink or near-nude shades, or a French pedicure.
---
By: Dominique Fong