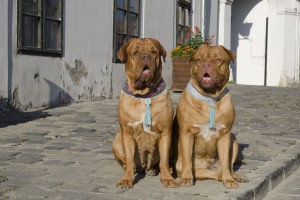 Want your next vacation to be fun for the whole family, four-legged members included?  If so, here is a list of the Top 10 dog-friendliest cities in the country—places where your faithful companion will be just as accepted as you!
1. Portland Oregon tops the list of the pet-friendliest vacation cities in the United States. Thanks to the famous and dog-friendly Rose Gardens and the Lucky Lab, you and your furry friend will have a doggone great time!
2. Chicago – While in the Windy City, visit the Navy Pier, dine in one of Chicago's several elegant pet-friendly restaurants, get your dog his sea legs on a pet-friendly tour boat or stroll through one of the city's many parks.
3. San Diego – Home to the country's best dog beaches and world-class hiking trails, San Diego is a mutt Mecca.  Or partake of the city's four-legged friendly shopping.
4. Seattle – Take Rover (and his leash) around the city using Seattle's world-class pet-friendly public transit or romp in the numerous parks and trails surrounding the Emerald City.  Seattle boasts many pet-friendly venues.
5. Philadelphia – Whether you're craving a famous Philly cheesesteak, wanting to see all the historic sites the City of Brotherly Love has to offer or merely hoping to luxuriate in a downtown hotel, Philly is the place for both you and your furry companion!
6. Minneapolis – With an overall pet-friendly atmosphere, Minneapolis boasts amazing parks and trails, pet-friendly dining and more–just be sure to pack doggy snowshoes if traveling in the winter months.
7. Austin – Austin is an outdoorsman's playground and your furry friend is not excluded in the Lone Star State.  With breathtaking parks and trails, pet-friendly restaurants and more, Austin makes for a perfect pet-friendly getaway.
8. Alexandria/ Washington D.C. – See the capital's sites, walk in charming Old Town or take a dog cruise on the Potomac.  Just be careful when picking your pooch's collar color–red and blue mean very different things here.
9. New York – Luxury hotels welcome dogs, Central Park beckons, off-leash parks everywhere. Shop the famous stores with your dog.
10. Indianapolis – Many historical sites, Nature preserves, trails and parks. Many of the cities tourist sites can be viewed with a dog.