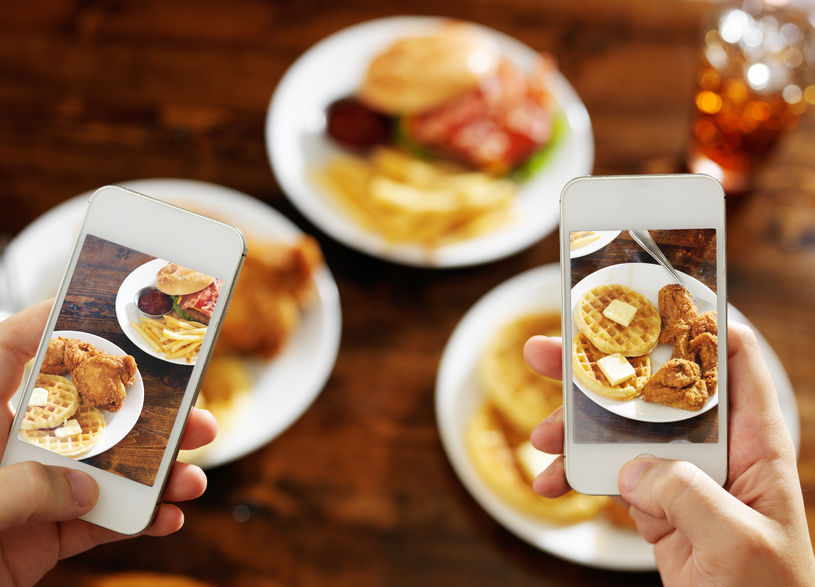 Having access to Internet-enabled smartphones and tablets has put the world literally at our fingertips. There are millions of apps designed to make our lives easier and better — apps that allow us to call rides when we need to get from Point A to Point B, figure out just how much money we can put towards that new pair of jeans, and to find information in the moments when knowing is crucial. But one look at our smartphones while we're writing this confirms a suspicion about your run-of-the-mill smartphone users: not many of the apps we use on a daily basis are dedicated to food. Sure, we've got Yelp, but there's so much more to the realm of food than just comparing restaurant reviews. People are starting to take what they eat very seriously, which can be very daunting if you've never payed much attention to your meals before. We've got ten of the best apps related to food to get you started:
The Fridge (iOS), $1.99
The Fridge is the perfect app for all of us who come back from the grocery with bags full of delicious foods that inevitably go bad before we get a chance to enjoy them. The Fridge allows you to enter the food in your refrigerator into the app with its expiration date (the apps comes with a handy reference guide for most foods), and will then send you a notification when it's close to curtain call. You can make grocery lists in-app while you're at it, and the app will learn with experience what you tend to buy together and give you suggestions, so you'll never leave the store with a bag full pasta and no tomato sauce again.
Non-GMO Project Shopping Guide (iOS, Android), Free
GMOs — genetically modified organisms — have been a hot topic of debate for the past couple of years. If you're concerned about consuming foods that have had their DNA tampered with, this app is your best friend. Provided by the nonprofit Non-GMO project, which checks foods for GMO ingredients, the app lists foods that are proven to be GMO-free.
Epicurious (iOS, Android), Free
Sometimes you feel the urge to get your Julia Child on and try your hand at whipping up a culinary masterpiece. So what happens if the most complicated meal you can make is toast? Epicurious gives you clear step-by-step instructions on a broad range of recipes, for the health-conscious and those who couldn't care less about the number of calories in their meals. The app will fill you in on the necessary ingredients and kitchen cookware you'll need, and will constantly update its database so you'll always have something to sate your curiosity.
OpenTable (iOS, Android), Free
This app allows you to make reservations at more than 10,00 restaurants across the US, Canada, and the United Kingdom. You have two options: you can use it to make reservations at a specific restaurant, or you can input the number of people in your party, your location and the time you would like to dine to get a list of places with open tables. Pretty intuitive, right? With filters to help narrow/refine your search results, OpenTable is a must-have for those nights you remember the in-laws are coming into town in an hour and you need a place to grub pronto.
Harvest (iOS), $1.99
Did you know that the best way to pick out an artichoke is to pinch its leaves together while listening for squeaks? Yeah, neither did we. The Harvest app has all kinds of tips that will help you pick out — not to mention prepare and store — the best produce at the market. It also has information on pesticide levels on produce, so that's helpful.
Foodgawker (iOS), Free
For those of us who are secretly (or not so secretly) obsessed with food porn. If you're the kind of person who has to take a picture of your food before you eat, look no further. Foodgawker is full of beautiful pictures of mouthwatering meals that will inspire you to go out and eat, but to capture the moment before you tuck in.
Hello Vino — Wine Assistant (iOS, Android), Free
Lots of gourmands enjoy a glass of delicious wine with their meal. The problem is, if you're not a connoisseur, picking the right wine to go with your food can be an exercise in chance. Hello Vino tells you exactly how to match what's on your plate with what's in your glass, with reviews of specific wines to boot.
Instacart (iOS, Android), Free
If your car breaks down right as you're about to head to the grocery store to stock your empty larders, don't worry, you're not going to starve and you won't have to resolve to self-cannibalism. Instacart will deliver groceries to your doorstep, sometimes even within the hour! Even if your car doesn't break down and you're just feeling extra relaxed (read: lazy), Instacart has you covered.
Fooducate (iOS, Android), Free with in-app purchases
With this app, you can know, once and for all, whether that packet of Double Stuf Oreos is actually as bad as you've been suspecting (hint: it probably is). With the phone's camera, Fooducate scans products on the shelves at your local super and gives you nutritional information, alternative recommendations, and will even factor in how much a serving of that particular food will set you back on your calorie goals.
Yummly (iOS, Android), Free
Yummly is the love-child of Epicurious and Foodgawker, with an adorable name. A broad range of recipes coupled with beautiful, food-porn-quality pictures of meals, ingredients, and the like, with the ability to build shopping lists too, makes this the Jack-of-all-Food-Apps.