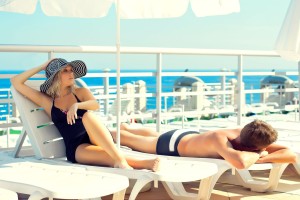 Cruises are a wonderful way to beat the winter blues and spend fun, quality time with the whole family.  Though maybe not ideal for land-lovers, cruise ships are chock-full of great food, gambling, kid-friendly activities and 5-star entertainment—not to mention a variety of excursion options at every port.  From snorkeling in the Caribbean, zip-lining through lush, tropical rain forests or walking on a glacier in Alaska (perhaps a cruise best left for the toastier summer months), on-land excursions provide cruisers the opportunity to explore new places in as adventurous or relaxing manner desired.
Expedia.com is currently running a sale on fall and winter cruises with their Find Your Joy promotion.  Booking with them can earn you $300 in onboard credit.
Norwegian Cruise Line is currently running a great deal that includes:
-Up to $250 onboard credit per stateroom on 6-night stay or longer
-Up to $150 onboard credit on 3-6-night stay
KIDS SAIL FREE
…and more!  This is a limited time offer, so time is of the essence on this one.
Carnival Cruise Line is currently running an Early Saver deal where those early birds are guaranteed lower rates on their reservation.  A price protection assurance program backs these fares.  This allows early bookers to sail to amazing destinations like the Bahamas for as low as $229.
If warm weather and glorious beaches are in your sights, but perhaps being on a boat isn't your cup of tea, here are a few other winter getaway ideas:
A 4-star winter weekend getaway to Puerto Rico for just $300, airfare included.
Three luxurious nights in a 4-star hotel in Hawaii for just $665, airfare included
For $979, spend a full glorious week luxuriating in an all-inclusive resort in Riviera Maya.  This price also includes airfare.
For more vacation ideas, deals and packages, visit Travelzoo.  This site is a great resource for up-to-date vacation packages to any spot on the globe.  Regardless of where you land, be sure to heat up your winter with a fun-filled and budget-friendly getaway!