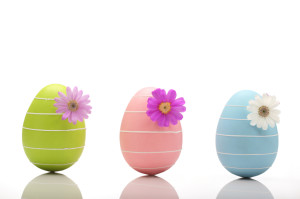 Easter happened, and you know what that means – tons and tons of leftover eggs. Colored eggs, plain eggs, hard-boiled eggs, runny eggs, the sky's the limit. To make use of all those eggs (one can only make deviled eggs so many times,) here are some recipes starring our favorite Spring time food.
Curried Egg Salad Sandwich – An awesome use of all of those leftover hard-boiled eggs, this deliciously savory salad can be consumed alone or as a sandwich.
Eggs Baked Over Sautéed Mushrooms and Spinach – A sophisticated brunch option, this recipe is as easy to make as it is beautiful.
Bacon Cheese Quiche – Quiches are amazing because you can pretty much toss anything in your fridge with some eggs and cheese, and voila, a delicious meal! They also freeze beautifully if you just have a ton of eggs you need to use up .
Deviled Eggs – Ok, no egg round-up would be complete without at least one classic deviled egg recipe, so here you go. Creamy, cool and delicious – you can't lose.
Rice Bowl with Fried Egg and Avocado – If you're looking for a no-fuss simple weeknight dinner, this is it. The saltiness of the egg paired with the creaminess of the avocado make for one satisfying bite.
Broccoli Frittata – Who says you can't have breakfast for dinner (or lunch, or snack)? Frittatas are the perfect anytime food and super easy to boot.
Perfect Scrambled Eggs – Just in case you were wondering what the secret to those restaurant quality scrambled eggs were.
Chinese Egg Drop Soup with Noodles – Yes, eggs can even go in a soup! And this comforting classic soup is sure to warm bellies and hearts.
Broccoli and Goat Cheese Soufflé – This elegant recipe will wow all your guests.
Eggs Benedict – A real weekend brunch indulgence, if you haven't tried one yet, you must.
What are your favorite egg dishes?