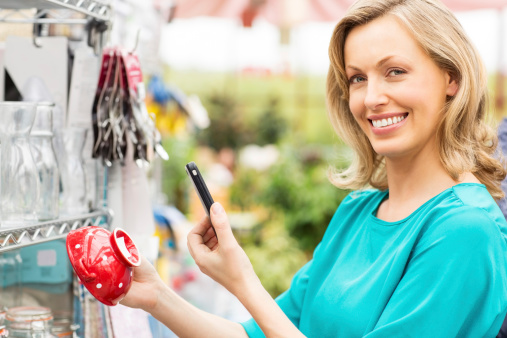 In a world where it sometimes feels like it's easier to recite all of the names of every appearing actor on your favorite television series while cooking dinner than it is to bring your reusable bag and rewards card to the grocery store… organization can be tough. We're professionals, we're go-getters, we're multi-taskers, and some of us our parents. It's easy for things to feel out of balance and it's even easier to get disorganized.
Technology can be one of the biggest distractions when you're trying to get things done, but it can also be one of your greatest helpers when it comes to keeping your life in order. Here are 10 free apps to help you get (and stay!) organized:
1. Mint
Surely one of your friends has mentioned Mint by now and if not, you'll be telling everyone about it soon. Mint is a free way to organize your money by letting you track, budget, and manage it all in one place. You can see where you're spending and where you can save with easy-to-understand graphs to break it down. Just open an account, add your bank, credit, loan and retirement accounts and Mint will automatically (and safely!) pull in and categorize your transactions. Mint will also help you avoid late fees and monitor cash with bill reminders and alerts and lets you set limits for categorized spending (health and fitness, beauty, restaurants, etc). Mint puts your finances into perspective and helps you stick to a budget.
2. Rescue Time 
This app helps you find your ideal work-life balance by tracking your daily computer habits. It runs safely in the background on your computer or phone, tracking your time spent on applications and websites to give you an accurate picture of your digital day. How much time was spent on email or in conference calls and how much time was spent on Facebook? If Facebook outweighs work, you can use the app to block distracting websites for a set amount of time. If you're trying to spend less time checking your email, you can set an alert to let you know when you've spent a certain amount of time on it for the day. A  great app for improving productivity and being mindful about your day.
3. SavingStar
SavingStar gives you coupons for things you want or buy at your favorite grocery and drugstores. You pay the normal price at the store and the savings you choose add up inside the app. Once you reach $5 in coupons, you can put the money into your bank account, redeem it for an Amazon gift card, or donate to charity. No more mail-in coupons or using that extra dollar or two to snag a candy bar in the check-out line.

4. Key Ring
Rewards cards are easy to forget and easy to lose despite their many cost-saving benefits. They also have a way of taking over your key ring! The Key Ring app stores all of your rewards information and lets you scan your phone in the store instead. No more missing out on deals or bonus points because you forgot the tiny tags.
5. RedLaser
This comparison-shopping app lets you scans barcodes in stores and see how their prices stack-up with competitors. The New York Times added it to their "Top 10 Must Have Apps for your iPhone" for good reason—you'll never overpay for your must-have items again. The app also lets you read product reviews, see nutrition facts, and find store locations, hours, and maps. When you open RedLaser in a store you'll find everything you need to shop and save, including weekly coupons and store maps. Divide and conquer!
There's something very satisfying about checking off an item on your to-do list, especially if it's finally remembering to grab the milk. Remember the Milk lets your organize your tasks by day, priority, type, and more. It also lets you look up to-do list items by your GPS—if you've got thirty minutes before you need to pick up the kids, the app can remind you that: Oh yea!, I needed to pick up the dry-cleaning nearby. Another added perk? The app can send reminders to you by email, text message, or instant messenger. It also syncs with your Google Calendar and Siri if you have an iPhone.
7. BigOven
BigOven was named Reader's Choice Best Recipe App in 2013, 2012, and 2011. It keeps 250,000+ recipes, your grocery list, and menus all neatly organized on your phone. Meal planning doesn't have to be stressful—just drag-and-drop recipes onto calendar days and shop accordingly. You can search for recipes by keyword, course, and ingredient or browse popular recipes. The app also helps you use up your leftover—enter three ingredients you've got and it gives you ideas of what to make.

8. ZocDoc
ZocDoc makes booking a doctor's appointment quick and easy. No squeezing in a phone call on your lunch break or dealing with an impatient receptionist. Use the app to search for doctors by speciality, location, date you would like the appointment, and insurance policy. ZocDoc shows you doctors that match your results and you can see what appointments they have open to see you. Book through the website and the doctor's office will usually follow-up with a call or email confirming your appointment. It's also easy to reschedule using the app, just cancel and rebook at another time. Your doctors' offices just became 24-hours.
9. Things
This one is for Apple users only. An easy-to-use task manager that seamlessly syncs your to-dos across your devices using iCloud. Enter your items and Things will show you what is due and scheduled for each date, plus what's coming up next and what's scheduled for later. You can easily create repeating tasks, add due dates, schedule tasks for a later date, and review your completed tasks in the Logbook. Sound simple? It is. As one commenter wrote, "Other to-do list managers I've tried have, quite honestly, gotten in the way of me getting things done."
10. Life Booker
Does it feel like finding time for you is that hardest part of your day? When you're feeling like indulging yourself a little with a massage or a manicure or a haircut, Life Booker has you covered. Find discounted services at local salons and fitness and health centers and then book right through the app. It's like groupon, but just for beauty.
There! Now you can check "Get organized" off your never-ending to-do list.