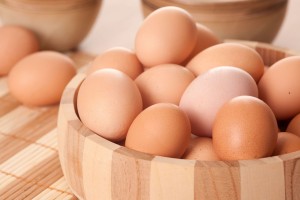 As the age-old saying goes: Breakfast is the most important meal of the day. Tell that to the mom who has barely enough time to get herself dressed in the morning before shuffling everyone out the door. Or try mentioning it to the woman who stayed late at work, woke up late, and doesn't have time to brush her teeth, let alone make breakfast.
We've all been there. Rushed through our mornings and stomach grumbling well before lunch-time. Whether you skipped breakfast because your go-to meal takes longer than the morning allowed or you're simply "not a breakfast person", these five recipes for quick and healthy breakfasts may change your mind. (The final two can be prepared at night or over the weekend and grabbed on your way out the door!)
1.     Egg toasty
This takes five minutes total and your ingredients can be easily changed depending on what you're in the mood for or what's available in your fridge.
Drop one egg into a small frying pan and add salt and pepper. You can give it a quick scramble or let it cook sunny-side up, etc. Toss in some avocado, green onions, sliced cheese, bacon bits, hams slices etc.. Grab a slice of your favorite bread (we shared an easy bread-making recipe that works great for this!) and put it in the toaster while your egg cooks.
Pop the egg onto your toast and you've got a delicious, protein-packed breakfast.
2.     Greek yogurt, honey, granola, and fruit
Coffee shops are notorious for serving-up expensive parfaits for healthy breakfast options. Why not make your own at home?
Use Greek yogurt (or regular) as your base. Add in some swirls of honey or agave syrup (If you're not a fan of Greek yogurt, this can really cut back on the tart flavor. Greek yogurt has double the protein of regular yogurt, so it's worth a try!). Toss in granola or almond baking slices and top with a layer of your choice of fruit.
This easy breakfast is perfect to pop into a mason jar if you don't have time to sit and eat.
3.     Egg baked in an avocado
Nothing could be easier than a two-ingredient recipe. Eggs. Avocado. Go!
Cut your avocado in half and take out the pit. Scoop out a bit more of the avocado to make room for your eggs. You'll want to use smaller eggs—if you use extra large they're going to overfill your avocado cup. Season with salt and pepper, if you please. Bake in an oven at 425 degrees for 15 minutes. When they're done, you can enjoy them as they are…or add sriracha, bacon, or cheese…!
4.     Ham Breakfast Casserole
Breakfast casseroles are an easy way to make breakfast for the week. Prepare your pan and cut into slices as needed.
Ingredients:
1 (26-ounce) package shredded hash browns, thawed
1/2 cup butter, melted
1 1/2 cups diced ham, fully cooked
2 cups cheddar cheese, shredded
1 cup Swiss cheese, shredded
1/2 cup half & half cream
3 eggs
Directions: 
Spray a 9×13 casserole dish with cooking spray. Press hash browns evenly on bottom of pan and brush with melted butter. Layer with diced ham, then both cheeses. In a bowl, whisk together cream and eggs; pour over casserole. Bake uncovered at 350 degrees for 30-40 minutes, or until knife comes out clean.
5.     Breakfast Muffins
Another healthy grab-and-go breakfast you can make over the weekend or in the evening.
Ingredients:
1 lb breakfast sausage
1 head broccoli, trimmed to florets and chopped
8 oz mushrooms, sliced
2 medium tomatoes, seeded and diced
6 egg whites
12 whole eggs
1/2 c milk, 1%
1/4 tsp dill
1/4 tsp fresh ground pepper
1/2 tsp salt
3/4c parmesan cheese
Directions:
Preheat oven to 350. Spray a muffin tin with cooking spray. Add the sausage to a pan over medium heat. Cook until browned.
While the meat is cooking, steam your broccoli. Place florets in a heat-safe bowl with 4 tablespoons of water. Cover in saran wrap and microwave for 4 minutes. Drain excess water.
When the sausage is browned, remove it from the pan and set aside to cool. Leave the juices in the pan and add mushrooms for 6-8 minutes. Add tomatoes and cook for 2-3 more minutes.
Lightly beat eggs, egg whites, milk, salt, pepper, and dill. Stir in cooled sausage, mushrooms, broccoli, tomatoes, and 3/4 c of the cheese.
Pour mixture evenly into muffin tins 3/4 of the way full. Use remaining 1/4 c cheese to top muffins.
Bake for 20-25 min.