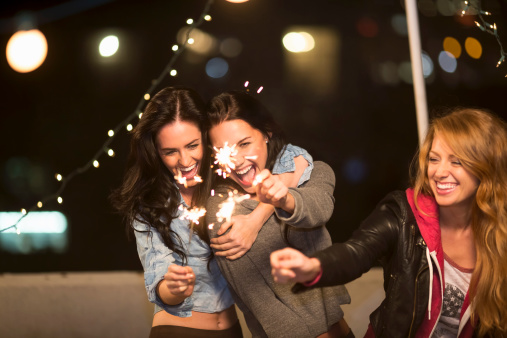 It's that time of year when the days get longer and hotter. You begin daydreaming about relaxing by the pool, indulging in trashy books and TV, and eating record-breaking amounts of fro-yo on the regular. Everything feels a bit more magical around this season, and you might even be in the mood for a summer fling. Here's a foolproof recipe for the best. summer. everrr. Or one that's pretty darn close, anyways.
An amazing soundtrack.
The greatest summers start with an equally great playlist. Back in the day, you'd burn that perfect combination of songs onto a mix CD and maybe even make a fancy cover for it with the track list and everything. But thanks to Spotify, you can put together a devastating musical mishmash and share it with all of your friends, family, and even complete strangers with just a few clicks. Bonus: you'll never lose it in the backseat of your car!
A couple of fun day trips.
Who says you have to empty your bank account in order to have a getaway to remember? Pick a place within a one- to two-hour drive (or bus or train ride) that you've always wanted to visit, grab some coffee for the road, and head out early to make the most of the day. Plan a loose itinerary, but be open to checking out that awesome diner or out-of-the-way boutique that you noticed on the way. You'd be surprised how much fun you can have so close to home.
A few girls' nights out.
Whether you're coupled or unattached, it's all about the quality time with your ladies. You might be over the whole club scene, but you're never too old to head out on the town and get down with your bad selves for a few hours. You can always keep it more low-key with dinner and a movie or a super-fancy cocktail lounge, too.
A healthy serving of mindless TV.
Pick your poison: America's Got Talent? So You Think You Can Dance? The Bachelorette? Having your best friends over and snarking on reality shows while drinking wine and eating ice cream just feels so right year-round. However, you can't deny that the carefree energy of the summertime just magnifies the awesomeness.
A rockin' concert.
There's nothing quite like a big, loud, fun concert that just about everyone you know is attending. That's probably because these shows are about more than just the music; it's a whole social event. The tailgating, the bonding with fellow fans, the recapping of the best parts of the show on the way home. Once your ears stop ringing, you'll be talking about the fun you had for the rest of the summer.
By: Kim Windyka