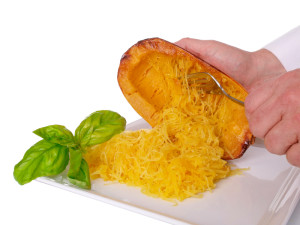 Thanksgiving is a little less than a week away, which means it's serious crunch time. No more stalling, it's time to get your plan together and get that menu finalized. Sure, some people may think we're crazy for doing it this far in advance, but this gives you a chance to really browse the web for some unique dishes to add into the mix.
We love our side dishes, and have no shame indulging in all of their carb filled glory, but we also like to add in some vitamins when we can. So we thought we'd put together a list of recipes that include the wonderfully delicious fall ingredient, squash!
1)
Macaroni and Cheese
– An awesome twist on a classic Thanksgiving side dish, this macaroni and cheese includes some butternut squash! Not only is this a delicious and sweet addition to an otherwise savory dish, it's also a great way to sneak in some added nutrition for the finicky eaters at your kids table!
2)
Crostini
– Butternut squash, cranberries, and goat cheese? Where do we sign up to eat the entire tray of this delicious appetizer. The beauty of the dish, combined with the guaranteed deliciousness is sure to stun any of your holiday party guests.
4)
Acorn Squash Polenta
– If you haven't tried making a dish with polenta before, now is the time to start. It's an awesome side dish for Thanksgiving, and we love this simple, minimum ingredient recipe as an option for this holiday season!
We hope that we've added some fun to your holiday menu! Enjoy!