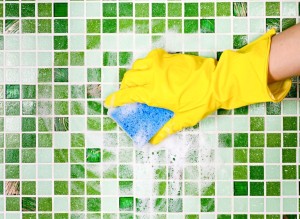 With people becoming more and more conscious of the chemicals in the products they're using, green brands are starting to emerge as a popular alternative their traditional counterparts.
Method – Probably the most well-known of the green cleaning brands, Method not only comes stylishly packaged but is widely available at a local Target near you.
Seventh Generation – Their mission states "We care today for the next seven generations of tomorrows," and as one of the oldest brands in the eco-friendly biz, they're doing just that.
Mrs. Meyer's Clean Day – Inspired by Thelma Meyer, a mother of nine (yes, nine!), Mrs. Meyer's products are all made with essential oils and are not tested on animals.
J.R. Watkins – As "America's original natural apothecary manufacturer," J.R. Watkins is most recognizable by its vintage-looking labels and kid-friendly natural products. Their products can be found everywhere from Target to CVS to even Cost Plus World Market.
Green Works – Started by the Clorox Company, Green Works is made of naturally derived ingredients and is the first major effort from a large consumer products company to go green. Perhaps now other manufacturers will follow suit.
The Honest Company – What started out as Jessica Alba's green diaper company has expanded into a multitude of household cleaning products as well. Everything from non-toxic laundry detergent to dishwashing tablets to granite cleaner can be found on the site.
The Laundress – After starting out with a highly coveted natural laundry detergent, The Laundress has expanded to basic cleaning products as well. Sophisticated and elegant branding has made this green company, which was started out by two friends working in the high fashion industry, a favorite from both celebrities and environmentalists alike.
Caldrea – Caldrea believes that caring for our homes "should be a beautiful experience." The founder was driven by a desire to protect her family from harsh chemicals and scents and became a pioneer in Aromatherapeutic home keeping. With lovely scents ranging from Ginger Pomelo to Lavender Pine, cleaning with these products is sure to be a pleasant experience.
Did I miss any of your favorite green cleaning brands? Do share!