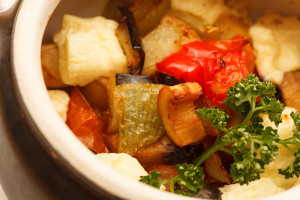 When it's cold outside, what does a lot of America do? Bust out the slow cooker, of course! There's no easier way to come home to a delicious-smelling dinner, and it's a lifesaver for working people and busy moms everywhere. So if you're tired of the same old dinner rotation, check out these slow cooker recipes you've just gotta try!
Cheddar Broccoli Soup – It's cheesy AND it's got  veggies in it?! That's a win-win in my book. And this recipe couldn't be easier to make. Ladle this up with some nice crusty bread, and it's a dinner that anyone will find irresistible.
BBQ Pulled Pork – One of the ultimate slow cooker recipes, this BBQ pulled pork can be used in anything from sandwiches to burritos to salads.
Beef Broccoli – Got a hankering for this Chinese restaurant favorite but don't feel like getting delivery? Make your own super-easy slow cooker version instead.
Honey Sesame Chicken – THis reicp has been pinned everywhere, and it's easy to see why. It's delicious, homey, and easy!
Chicken Parmesan – Who doesn't love a good chicken parm? Paired with some pasta and salad, and you've got yourself a super fast, super tasty weeknight dinner the whole family is sure to love!
Smoked Sausage Cassoulet – Hearty and exploding with flavor, this Sausage Cassoulet is a must-try. I can just imagine this would taste even better re-heated the second day.
Creamy Tortellini Soup – Pasta in soup with mushrooms and spinach?! This is definitely going on the must-try on my list. What kid (and adult) wouldn't love this?!
Slow Cooker Steak Fajitas – Forget Taco Tuesdays, make room for Fajita Fridays. All you need is this oh-so-tender sow cooked steak, tortillas, some veggies and whatever other toppings you desire.
Happy (slow) cooking!