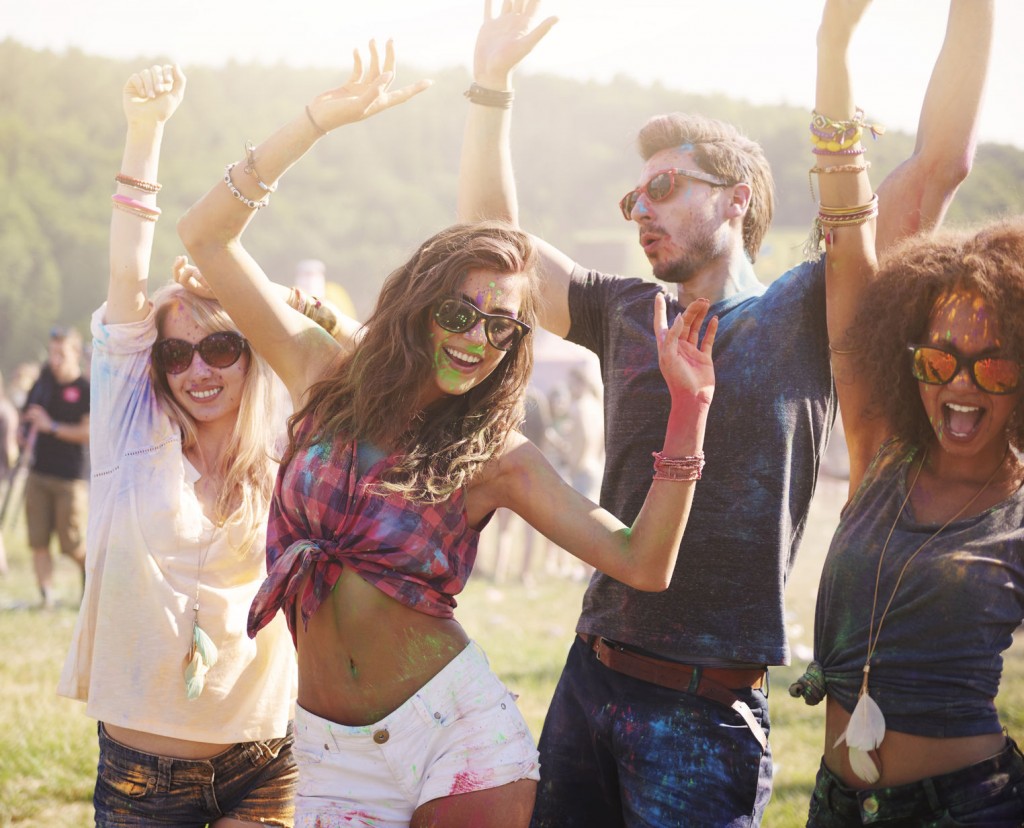 The weather's getting warmer and the sun's out even longer these days, so you know what that means — it's festival season! Even if you aren't into concerts year-round, music festivals are universally a good time. You have the opportunity to hang out with your friends, nosh on great food and strong drinks, and jam along to old favorites. You may even discover some new ones. If you knock out your planning early, you and your squad could score some incredible deals on travel accommodations and hotel rooms. That's where we come in. Weekly Sauce has prepared a list of eight music festivals from April to September that you ought to be considering, from the East Coast to the Midwest and down South. From bluegrass to indie rock, there's a festival for you, so get your wardrobe together and take a look at our rundown.
New Orleans Jazz and Heritage Fest | April 22 – May 1 | New Orleans, LA

New Orleans is a phenomenal place, in and of itself. Copious amounts of alcohol, second lines (i.e. brass band parades), and unadulterated fun everywhere you look lend to the spirit of the city. And during the New Orleans Jazz & Heritage Festival, it's all magnified. This year's lineup boasts a number of artists from a variety of genres from Nick Jonas and Flo Rida, to Gary Clark Jr. and Janelle Monae. Click here for more information.
Shaky Knees Festival | May 13-15 | Atlanta, GA
The Shaky Knees Festival is one of Atlanta's biggest rock events every spring — and that's quite an accomplishment, since it was only founded about three years ago. Last year, Shaky Knees hosted The Strokes, Trombone Shorty & Orleans Ave., Elton John, and James Blake to a crowd of thousands of music fans, young and old. This year's lineup is sure to bring people out in droves as well. Florence & The Machine, Jane's Addiction, and The Kills are only a few of the names on the ticket. Check out the event here.
Hangout Fest | 2015, May 20 – 22 | Gulf Shores, AL
What could be better than hitting the beach to hear some live music? Nothing. Absolutely nothing. The Hangout Fest kicks off exactly one month before summer officially begins, but the sun is sure to be shining bright as you and your besties head out to hear Lenny Kravitz, The Weeknd, Strangers You Know, and Panic! At the Disco. Best part: you get to wriggle your toes in the sand the entire time. Head over here to find out more.
Bonnaroo | June 9-12 | Manchester, TN
About an hour away from Nashville, the Bonnaroo Music & Arts Festival is the largest outdoor music festival in North America, and features everything from rock and hip-hop to folk and bluegrass. In 2015, Billy Joel, Flying Lotus, and Earth, Wind & Fire are just a few acts who dropped in to perform. This year's Bonnaroo (Creole slang for 'a really good time') continues the tradition with artists like Big Grams [Big Boi & Phantogram], Pearl Jam, and J Cole on the lineup. Get tickets here.
Vans Warped Tour | June 22 – August 13 | Anchorage, AK – Portland, OR
If you're strictly into indie rock, slide on your favorite checkerboard Vans and head to the Warped Tour when it hits your city this summer. The lineup won't be announced until March 22nd, but past years have featured bands like The Wonder Years, I Fight Dragons, and Issues. Make sure to check the site for the lineup.
Pitchfork Music Festival | July 15-17 | Chicago, IL
In July, Chicago's Pitchfork Music Festival will be in full swing, celebrating everything from electronica and dance to hip-hop and alternative rock. Last year, Chvrches, Run the Jewels, and Wilco stopped in at Pitchfork, but this year hometown heroes like BJ the Chicago Kid and Jeremih are on the ticket, along with Anderson .Paak & The Free Nationals. Make the trip, and find out more info here.
Lollapalooza | July 28-31 | Grant Park, Chicago, IL
While you're in town for Pitchfork, you and your favorite people ought to extend your stay in the Chi. Go out for deep dish pizza, take pictures in front of The Bean, maybe a boatride on the Chicago River — just to pass the time, because Lollapalooza goes down just 11 days after Pitchfork. As of now, the lineup hasn't been announced. But last year, artists like Sam Smith, The Weeknd, Tove Lo, and Glass Animals had the crowd moving. Keep an eye on the site for lineup information.
Made in America Festival | September 3-4 | Philadelphia, PA
Most people know about the Made in America Festival because of Jay-Z and Beyonce's involvement but it's much bigger than just those two mainstream artists. There couldn't be a better setting for these stages than the streets of Philly, where so much American history is rooted. The festival is set on creating new history each year through a number of stages featured music veterans and up-and-comers on a number of stages. Last year's lineup included A-Trak, Vic Mensa, and G-Eazy from the Bay Area. This year's hasn't been announced just yet, but it's sure to be just as spectacular. Stay on top of the lineup announcements here.