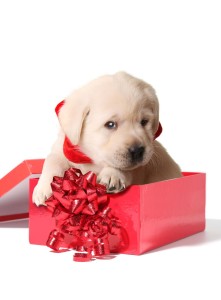 About 7 years ago we had a puppy, a little Yorkie.
At the time the twins were only 16 months old and my other two children were 6 and 9. She was a sweet little dog and the kids absolutely adored her. As time went on though she was a bit to handle, she had separation anxiety, and she also did not like for me to carry two babies around instead of her. We kept her for about 2 years.
At the time I was back in school and working, and then we began the fun divorce process. I knew it wasn't fair to keep the little pup locked in a cage all time and my kids had the rest of my attention.  So I found a lady to take her and she has a happy home now. All my kids have wanted since then is another dog. They have told me countless times that they would love for Santa Claus to bring them a puppy for Christmas.
So, after months of thinking about it I broke down and decided to do it. Last week, my boyfriend and I went down to Amish country to a place that several of my family members have purchased their dogs from.
The man I got her from held her for me until Christmas Eve. This Christmas Day is the first day I have woken up without my kids at home; they will be at their father's house. I am beyond excited for them to come barreling through the door! She's in my bedroom, and will stay there until they open their other gifts. I'm going to sneak to the room and carry her out with a big red bow around her neck.
Having a dog to care for will benefit my family so much. The kids will enjoy her and they will also have some responsibility that is also rewarding for them. It will bring the family together, and the puppy's unconditional love will be known and appreciated.
Merry Christmas all!